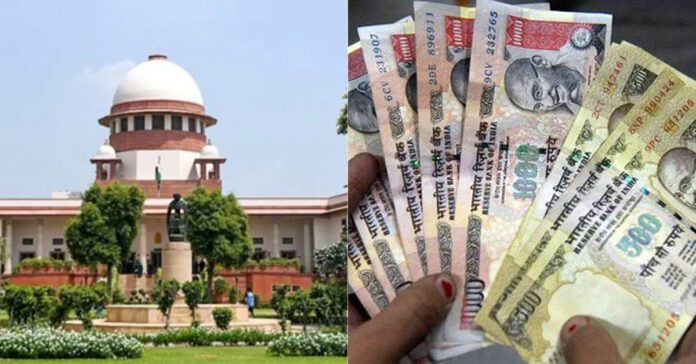 The Supreme Court of India upholds the decision on demonetisation of currency i.e., 1000rs & 500rs ban on Jan 2, 2023, with a 4:1 majority verdict.
PM Narendra Modi announced demonetisation of old currency notes Rs.1000 & Rs.500 on 8 November, 2016. The decision was taken in order to promote digital payments and reduce black money in India. However, it has raised many flaws in the process.
The Apex court has received 58 petitions opposing the Demonetisation announcement made by the Centre on Nov 8, 2016. Justice B V Nagarathna has given a clear judgment that the demonetisation is well initiated and executed & it will be declared unlawful on legal grounds.
According to The Hindu, a five-judge constitution headed by Judge S A Nazeer. Who will retire on Jan 4 delivered the verdict on the case today, when the apex court reopens from its winter break.
There will be two separate judgments pronounced by the Justices namely B R Gavai and B V Nagarathna. It is hard to ascertain whether the two decisions will concur or differ.
Moreover, the other remaining judges of the five-judge bench are Justices A S Bopanna and V Ramasubramanian.
On Dec 7 the apex court directed the RBI to maintain necessary records relating to the Government's demonetisation decision and reserved its decision.
The arguments of Attorney General R Venkataramani, the RBI's counsel, and the petition lawyers including P Chidambaram and Shyam Divan are heard in these arguments.
Chidambaram argument
Former finance minister P. Chidambaram stated a point that the government solely cannot initiate any proposal related to legal tendering. This can only be done under the recommendation of RBI's Central board.
Listening to the supreme court arguments to examine the demonetisation process. The government has argued that the court cannot decide on the decision that has already been made by turning the clock back.
Earlier the RBI admitted that the demonetisation process is a part of the nation-building process. The problems that arose in this early mechanism will be solved.
Meanwhile, Centre while submitting an affidavit told the apex court that the demonetisation process is a largely applauded decision. The main aim of implementing this decision is to control back money, terror financing, and tax evasion.
ALSO READ: This man pitched demonetization to PM Modi leading to Rs 500, Rs 1,000 note ban