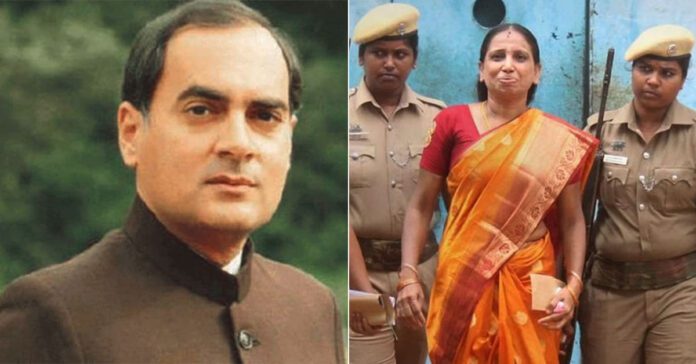 Nalini Sriharan, is the longest- serving woman prisoner in India. She is one of the seven convicts serving her punishment in the prison in former Prime Minister Rajiv Gandhi's assassination case. Earlier, she had attempted suicide in prison. She had a major role to playing the conspiracy. The Supreme Court released Nalini Sriharan on Friday.
Nalini Sriharan, is a graduate in English language and Literature from Ethiraj College. She was working with a private firm in Chennai. She was the eldest of three children born to Padmavathi, a nurse, and P Sankara Narayanan, a police inspector, who died in 2016.
Surprisingly, neither Nalini nor her family had any political links. It was her brother Bagyanathan's camaraderie with some friends that brought Murugan to her home.
Nalini Sriharan: India's longest-serving woman prisoner
Nalini, India's longest-serving woman prisoner, was sentenced to life imprisonment for her role in the assassination of the former prime minister. She has been serving a jail term for the past 29 years.
Lone surviving member of LTTE
Nalini was the only one who survived of the five-member squad behind the assassination. However, her role in the murder was exposed only after pictures clicked by S Haribabu, a local photographer came to light. Sadly, the photographer also died in the blast.
Nalini was a close aide of an LTTE operative and convict in the case, known as Murugan. He was arrested a month after the assassination and awarded death sentence.
Sentence commuted to life imprisonment
In 2000,  Sonia Gandhi, the widow of Rajiv Gandhi recommended Nalini from her death sentence life imprisonment out of compassion. Nalini had pleaded for clemency for the sake of Nalini's daughter who was born in prison.
In fact, by then Nalini had regrets that the killing of Rajiv Gandhi, adding that his death was a loss to the country.
Nalini Sriharan Moved the Madras High Court
In September 2021, Nalini moved the Madras High Court seeking direction to the Governor of Tamil Nadu. She pleaded to approve the state government's recommendation regarding the release of all seven convicts. Moreover, she also appealed to Tamil Nadu Chief Minister Edappadi K Palaniswami for her early release, besides sitting on a hunger strike in the Vellore prison.
The Tamil Nadu government had recommended the release of Nalini and six other convicts, Murugan aka Sriharan, Jayakumar, Santhan, Robert Payas, Ravichandran and Perarivalan aka Arivu to the Governor under Article 161 of the Constitution.
ALSO READ: Supreme Court frees all convicts of Chhawla Rape case