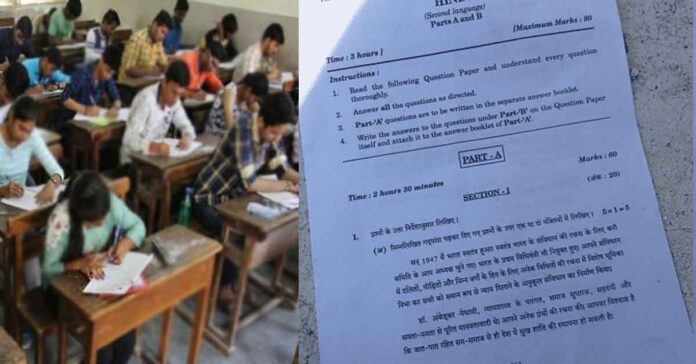 SSC exam paper of second language Hindi was leaked at an exam centre in Warangal just as the exam commenced at 9.30 am on Tuesday. 
According to Warangal CP, Shiva Ganesh leaked the question paper after exam commenced, but with an intention to cause damage. Exam began at 9.30 AM, He took a picture at 9.45 AM and circulated it in groups by 9.59AM.
Shiva Ganesh forwarded the paper to all media including BJP President Bandi Sanjay with distorted facts. The message in his groups are the evidence,  says Warangal CP. Case has been booked against Shiva Ganesh. He was taken into custody.
On Monday the first day of SSC exams, the First language Telugu question paper was leaked through WhatsApp. A teacher who was on duty as an invigilator at an exam centre at a government school has leaked the paper in Tandur, Vikarabad. Case was registered against the teacher.
#Telangana: ⁦@cpwrl⁩ busted the SSC Hindi Paper leak.

⁦@cpwrl⁩ has taken Shiva Ganesh into custody for leaking the paper after exam commenced, but with an intention to cause damage.
-Exam began at 9.30AM, pic taken at a 9.45 AM and circulates it in groups by 9.59AM+ pic.twitter.com/Ea5MfDHsEd

— NewsMeter (@NewsMeter_In) April 4, 2023
ALSO READ: TSRTC to issue monthly bus passes on kilometre basis