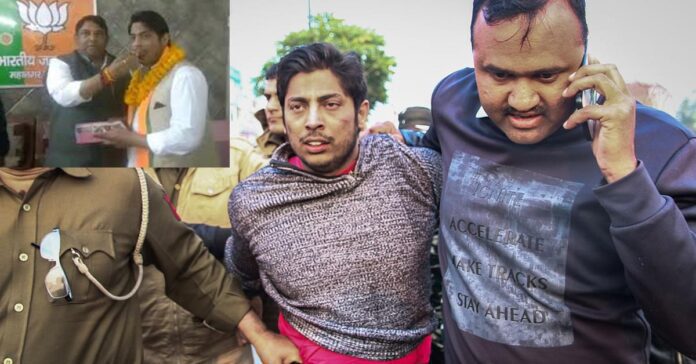 Ghaziabad BJP president Sanjeev Sharma said, 'We had no knowledge of his association with the Shaheen Bagh shooter issue.
The Bharatiya Janata Party (BJP) inducted Kapil Gurjar. Kapil Gurjar is the man who opened fire in Shaheen Bagh during anti-Citizenship Amendment Act (CAA) protests in February 2020. As soon as he joined BJP, there was a political storm, for which he had to cancel his party membership after few hours on Wednesday.
Subsequently, Ghaziabad BJP president, Sanjeev Sharma, issued a statement that they were not aware of his connection with the Shaheen Bagh issue.
Earlier, Ghaziabad BJP officials had welcomed Gurjar, along with a group of Bahujan Samaj Party (BSP) workers, into the party.
Gurjar said that he had joined BJP because he believed that the party works for the "Hindutva" cause.
On February 1 2020, Gujar had descended on the site at Shaheen Bagh and fired two rounds in the air. He was shouting at the crowd saying, "Hamare desh mein aur kiski nahin chalegi, sirf Hinduon ki chalegi (In our country, only Hindus can have their way, not anyone else)."
Thousands of protesters were at the ongoing peaceful protest against CAA . Later, he was arrested by the police and taken into custody.
During the investigation, Gurjar told the police that e was annoyed by protests at Shaheen Bagh leading to road blockade and traffic disruptions.
He said that he was annoyed by the fact that he had to spend hours on the road in traffic at a time when his family was in the process of preparing for his sister's wedding.
During the investigation, Gurjar lied to the police that he and his father had been the members of Aam Aadmi Party (AAP) since 2019. To prove that he showed photos accessed from his phone shown Gurjar with senior leaders of AAP including Sanjay Singh and Atishi.
However, both AAP and Gurjar's family refuted his claim. On investigating, the police came to know that Gurjar's father had contested Delhi municipal corporation election in 2012 on a Bahujan Samaj Party ticket, but he had never been associated with AAP.
ALSO READ: Farmer's daughter, Bilkis Dadi, Detained for Joining Farmers Protests