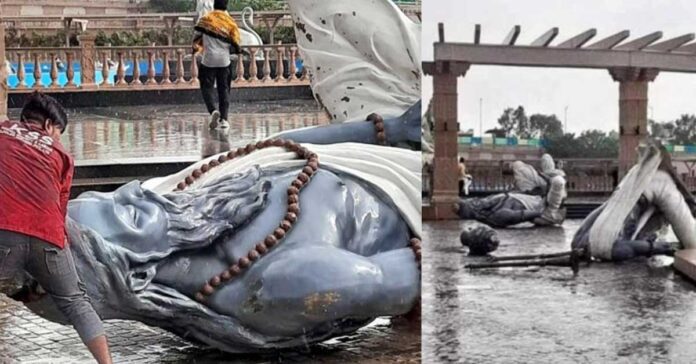 Six idols of the Saptarishis were allegedly damaged and collapsed due to strong wind at Mahakal Lok Temple in Ujjain.
Six of the seven ten-feet-tall Saptarishi (seven sage) idols located in the Mahakaleshwar temple's Mahakal Lok corridor fell to powerful 65 kmph winds in the state, suffering severe damage in some cases. Due to the large attendance at the premise, no people injuries have been reported. 
According to the source, after the collapse of the huge statues. The entry of the devotees was not allowed in the premises for a few hours. Chief Minister Chouhan said that all six 'Saptarshis statues that fell would be replaced with new ones.
The Mahakal Lok corridor project, worth Rs 856 crore, was indurated by Prime Minister Narendra Modi on October 11, 2022, in first face. According to the Madhya Pradesh government, the project's second phase will be completed by 2024.
In an interview with PTI, former Congress MP head Arun Yadav stated, "The BJP government is not even sparing Gods, and this incident at the Mahakal Lok corridor smacks of corruption."
Kamal Nath Tweet:
State Congress chief Kamal Nath took to Twitter to express his thoughts on the idols' collapse and to mock the ruling BJP. "I demand from the chief minister that the idols be restored immediately," he wrote. The substandard construction should be probed, and people involved should be punished."
मध्य प्रदेश की तत्कालीन कांग्रेस सरकार ने जब उज्जैन में महाकाल मंदिर परिसर का भव्य निर्माण करने का संकल्प लिया था तब इस बात की कल्पना नहीं की थी कि बाद की सरकार महाकाल लोक के निर्माण में भी गंभीर अनियमितता करेगी।
आज जिस तरह से महाकाल लोक परिसर में आंधी चलने से देव प्रतिमाएं जमीन…

— Kamal Nath (@OfficeOfKNath) May 28, 2023
Saptarighis idols collapsed at Mahakal Lok Temple in Ujjain
Madhya Pradesh: Six idols of the Saptarishis damaged due to strong wind in Ujjain's Mahakal Lok Temple
Today at around 3 am, there was a very strong storm, due to which some idols of Saptarishis have fallen down. The work to fix them is going on. Everything will be fixed in 2 days: DM Kumar Purushottam, ANI tweeted.
Madhya Pradesh: Six idols of the Saptarishis damaged due to strong wind in Ujjain's Mahakal Lok Temple

Today at around 3 am, there was a very strong storm, due to which some idols of Saptarishis have fallen down. The work to fix them is going on. Everything will be fixed in 2… pic.twitter.com/Uuh7uS1Nsz

— ANI MP/CG/Rajasthan (@ANI_MP_CG_RJ) May 28, 2023
ALSO READ: Watch: Man stabbed 16 year girl 20 times in Delhi, arrested