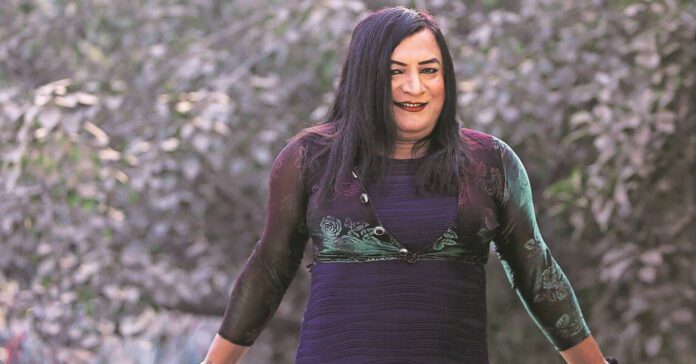 Sanjana Tiwari, going to introduce herself to gay men and transwoman who, like her, are at risk of getting HIV. Sanjana, an auto – rickshaw driver in Northwest Delhi, has accompanied the fear of being transgender and was once thought to be an HIV carrier as a sex worker. She is now a defender against AIDS and other sex-related diseases.
As a support worker at an NGO, she is dedicated to assisting trans people in just being who they are: human beings who can contribute to society despite their sexual orientation. Sanjana, now in her forties, realized she was different from an early age.
Life of Sanjana Tiwari
Sanjana enjoyed dressing up as a woman despite being born a boy and the eldest of five siblings. She liked the boys in her area. And never confirmed her gender identity because she was afraid of what her birth father and fellow citizens would say.
Sanjana enjoyed dancing like a girl, but her family warned her that if she danced like Kinnars, they would send her away. But she disguised herself as a boy until she was forced into sex work because of poverty. Our father did not back us up. Mother gave her all while working at a cloth shop, a job she struggled to keep due to her asthma. So, when I was 12, I started to work at a nuts-and-bolts factory, Sanjana explains.
Sanjana was brutalizer by the company's owner. I was afraid that if I did stop him, he'd fire me. That's when I realized that if I'd been violated and had no way out, why don't I do sex work for pay?
Her family mocked her because she kept her life a secret. My father, uncle, and grandmother regularly abused me. And none of them tried to step forward to assist us in meeting our living expenses, Sanjana says. After 16 years, her life was transformed by the HIV/AIDS fear.
Deepshikha NGO explained about HIV
Since I first started doing sex work, none of us knew anything about HIV. I was terrified for my life when Deepshikha, the NGO where I now volunteer, managed to reach out to me and described about HIV. "I'd been working without a condom for 16 years and was certain I had the infection," Sanjana explains. She was tested at Rohini's Baba Saheb Ambedkar Hospital, and the results were negative.
This is when she decided to try living her life meaningfully and on her own terms. "I left my job and began working with Deepshikha. They assisted me in becoming an autorickshaw driver. "They also encouraged me to pursue my creative interests; I now perform street plays to raise HIV awareness," she explained.
Sanjana also highlights the importance of ensuring education for LGBTQ children such that they do not become involved in sex work. It is generally the poor who, not knowing how to earn, turn to sexual services.
The issue is that feminine looking students are sexually are abused by their classmates, teachers, and school staff, causing them to drop out of school. There must be a way to ensure that they complete their education without fear. Then they should obtain regular jobs that allow them to live their lives like everyone else, Sanjana suggests.
Sanjana, who is now advocating for related to sex and digital literacy among LGBTQ youth, believes that all children should receive a sex education so they can protect them self.
ALSO READ: Northeast's first transgender doctor, Beyonce Laishram