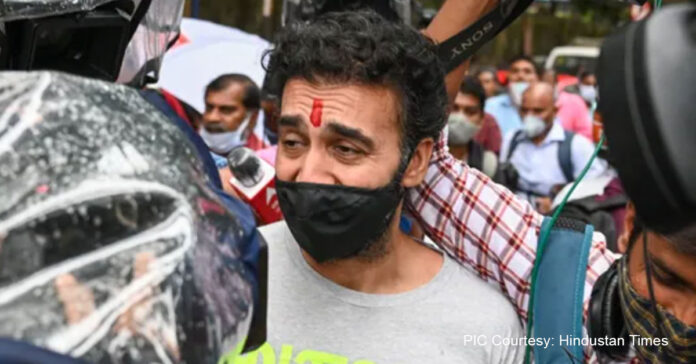 Businessman Raj Kundra, the husband of actress Shilpa Shetty, gets bail from Mumbai Esplanade Court on a surety of Rs 50,000. He was arrested for producing and streaming pornographic content.
Earlier, Raj Kundra was arrested by the Mumbai Police in July and filed a charge sheet against him last week. It is alleged that he is the 'key conspirator' in pornographic film racket. His employee Ryan Thorpe was also granted bail.
However, in his bail application, Kundra claimed that he was being made a 'scapegoat'. He said that there was not a single evidence in the supplementary charge sheet of him being actively involved in the creation of the alleged questionable content.
According to the ET times, Shilpa Shetty's boy Ravi went inside the jail. He carried a fresh pair of clothes for Raj Kundra. Raj Kundra changed his dress, put a teeka and then stepped out of the jail.
Raj became extremely emotional when he stepped out and was almost in tears. He got into a car waiting for him. However, he avoided all the media people and photographers .
He then took his Mercedes, which was waiting at a distance to ferry him home.
Advocate Prashant Patil, representing Kundra, told ET times, "Investigation was over and the charge sheet was filed and now further custody was not required. Court ruled that since the charge sheet is filed and as it had already ruled that videos in question were shot with the consent of adult women, there was no need to keep the accused behind the bars."