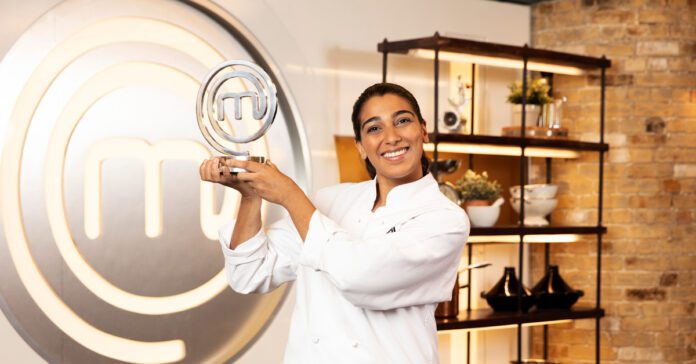 During Sunday's nail-biting final, Nikita Pathakji was crowned MasterChef: The Professionals Champion 2022.
The 25-year-old chef cooked her way to the top, defeating 31 other professionals. Impressing judges Marcus Wearing, Anna Haugh, and Gregg Wallace with her creative recipes inspired by her travels throughout Asia.
Nikita was awarded the prize along with resident MasterChef judge Gregg Wallace by guest judges acclaimed chef Anna Haugh and Michelin-starred chef Marcus Wearing.
Following her victory, Nikita stated, 'This is incredible, and I can't describe it in words. It outperforms all of my previous performances. I'm not sure how I'm going to top this. This is the greatest achievement, and I think I've reached it.
Competing against 31 other top chefs, all competing for victory over six weeks of difficult and demanding tasks, Nikita was ultimately victorious.
Marcus Wearing said of Ms. Pathakji's talent, "She's a chef who has grown right in front of our eyes". Her food has been delightful, and she has always decided to add a different twist.
Her winning menu included cured sea bass in a citrus dressing, smoked aubergine puree, spicy red pepper puree with pomegranate, preserved lemon, parsley oil, and aubergine crisps on the side.
ALSO READ: Anand Mahindra applauds Punjab woman driving auto to raise her daughters