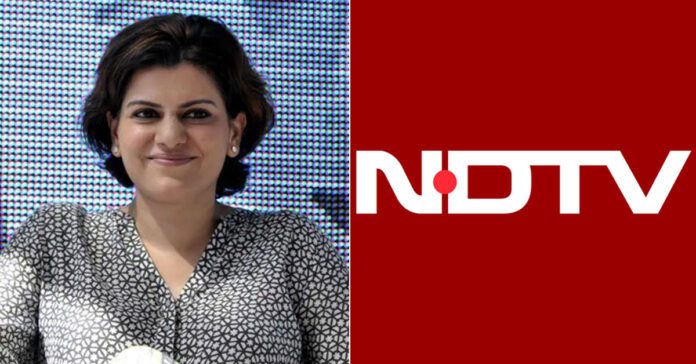 Popular Journalist and anchor Nidhi Razdan has resigned from NDTV. This resignation is the latest one from NDTV, after a series of resignations at the company after it was taken over by the Adani group.
According to Newslaundry, Nidhi Razdan has worked at NDTV 24×7 for over two decades. After her resignation, she shared the news with a tweet. In the tweet, she said, 'her journey with the channel has been a "roller coaster ride, but you have to know when to get off'.
Earlier in 2022, the Adani group acquired a 27.26% equity stake in NDTV from the Roys, founders of the news broadcaster. Prior to that, the NDTV board also appointed two nominee directors of the richest Asian Gautam Adani-run conglomerate on the board – Sanjay Pugalia and Senthil Sinniah Chengalvarayan.
Furthermore, Adani Group acquired a 29.18% stake in NDTV by buying a company backed by the television network's founders, Radhika Roy and Prannoy Roy. Thereafter, it made an open offer to acquire an additional 26% from public shareholders.
Journalist Sreenivasan Jain resigned from NDTV on January 28. He has been associated with the news channel since 1995.
Journalist Nidhi Razdan resigns from NDTV
After more than 22 years, it is time to move on from NDTV. It has been a wonderful, roller coaster ride but you have to know when to get off. The next couple of weeks are my last. Thank you for the love and support all these years, Nidhi Razdan tweeted.
After more than 22 years, it is time to move on from NDTV. It has been a wonderful, roller coaster ride but you have to know when to get off. The next couple of weeks are my last. Thank you for the love and support all these years.

— Nidhi Razdan (@Nidhi) January 31, 2023