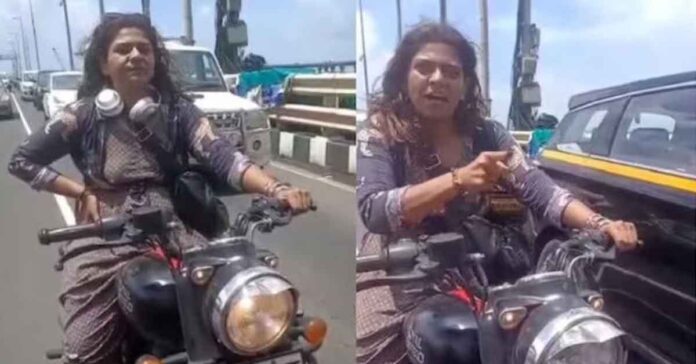 In an incident, a 26-year-old woman was arrested for riding a motorcycle without a helmet on the Bandra-Worli Sea Link in Mumbai. where two-wheelers are not permitted.
According to the police, the woman named Nupur Patel, a 26-year-old architect. She was stopped by the police for riding without a helmet. But she refused to comply with their instructions.
In the video, she can be seen arguing with the police constable and telling them how dare they stop me, my father owns this road. She started verbally abusing the police and even allegedly pointed her cigarette lighter, which was shaped like a pistol. When the police asked for the license and the documents.
Woman arrested for riding without helmet in mumbai
Mumbai: A 26-year-old woman from MP, identified as Nupur Patel was arrested by the police on September 15 for allegedly joyriding on her motorcycle — without a helmet — on the Bandra-Worli Sea Link, where two-wheelers are not permitted.
The situation became serious when the woman… pic.twitter.com/XID507kwLf

— Free Press Journal (@fpjindia) September 24, 2023
ALSO READ: Mumbai: Bandra-Versova sea link to be named after 'Veer Savarker'