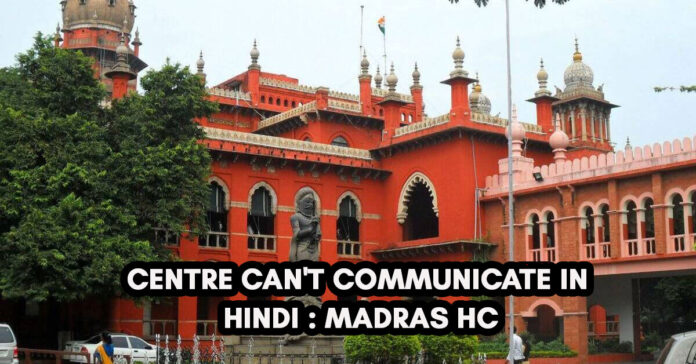 The Madurai bench of the Madras High Court said, "The Union government must reply in English if it is getting representation in English".
The Madras High Court heard a Public Interest Litigation (PIL) petition filed by Lok Sabha Member of Parliament from Madurai, Su Venkatesan.
Apparently, he had made a representation to the Central Government in English but he received a reply in Hindi. Immediately, he wrote back to the Union government to send a reply in English. The Central government failed to do so.
After that, he approached the Madras High Court. In his petition, he urged the Court to direct the use of English in all communications between the Central and the State government of Tamil Nadu.
Assistant Solicitor General L.Victoria Gowri, who represented the Centre said that the reply to Venkatesan was inadvertently written in Hindi. There was no intention on the part of the Central government to violate any provision of the Official languages Act, 1963 or Rules.
However, the Central government admitted that there was a mandate to use English Communications between the Centre and States that have nit adopted Hindi as their official language.
ALSO READ: BJP leader Priyanka Tibrewal contests against Mamta Banerjee in Bhabanipur