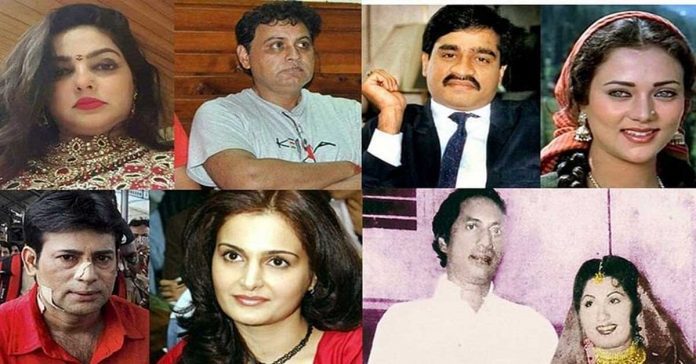 Yes, it is true that Bollywood stars are connected to the Underworld. It is kind of a symbiotic relationship where, both of them are benefited. Gangsters financed movies and as a return they get hafta from directors. There are several incidents where Bollywood actresses get signed in movies due to their relationships with underworld. Some of them are:
* Mandakini and Dawood Ibrahim: Mandakini is famous for her beauty and dancing. She used to rule hearts of hundreds of men, Dawood Ibrahim was one of them. Due to their relationship, she received several roles. After Dawood's underground, she got married somewhere else.
* Mamta Kulkarni and Vikram Goswami: Mamta Kulkarni was a famous actress, but she got only few movies in 90's. She flew with Underground Gangster Vikram Goswami in Dubai. They lived there for 10 years but in the year of 2014 they got arrested in Kenya for money laundering and drug dealing.
* Monica Bedi and Abu Salem: According to reports Monica helped Abu to get roles in Bollywood. He was accused to have threatened many film directors. He then was arrested by the Police and their relationship ended.
* Dawood Ibrahim and Anita Ayub: Anita was a beauty pageant contestant. Dawood was close to many of the Bollywood actresses and she was one of them. In the year 1995, Bollywood producer Javed Siddique refused to cast her in a movie; he was murdered by Dawood's man.
* Sona and Haji Mastan : Haji Mastan was a big fan of Madhubala, she was beautiful. He married Sona because she had resemblances of Madhubala. Her role was depicted by Kangana Ranaut and Ajay Devgan in the acclaimed film 'Once Upon A Time in Mumbai'.
* Gulshan Kumar's Murder: Music label T-Series owner Gulshan Kumar was shot to death in broad daylight in 1997. The Lokhandwala resident was heading to the temple when members of the underworld shot many bullets in one of the most brazen and high profile attacks against the Bollywood circuit. It is thought that the hit was called by Dawood, with Abu Salem also playing a role.
*Rakesh Roshan shooting: After Hrithik's father refused to share the profits he got from 'Kaho Na Pyaar Hai' in 2000 with Don Ali Baba Budesh. Budesh's men openly shot him in the arm and the chest while he was close to his office. Despite being such an enormous name and having guards, the mafia got through.
* Extortion of Bollywood directors: Both Budesh and Dawood are known to extort massive amounts of cash from Bollywood bigwigs. Mukesh Bhatt, Boney Kapoor, Rakesh Roshan have all admitted to receiving calls for sharing of profits, with dire consequences threatened if they didn't comply.
* Sanjay Dutt 1993 case: While Sanjay was recently charged and placed in jail; he was earlier picked up in 1994 by the police as well. This was in reference to the 1993 Mumbai blasts, where it's alleged that close associates of Dawood, including Abu Salem, visited Sanjay and stored guns in his house.
ALSO READ: Why is Disha Salian's family not showing interest in Sushant Singh's investigation?