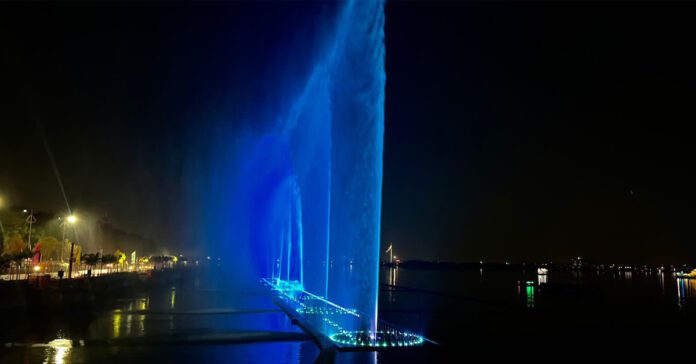 India's longest musical floating fountains at Hussain Sagar in Hyderabad, making the lake more attractive for tourists. This musical floating fountains with a length of 180 meters and a height of 90 meters was launched at Hussain Sagar Lake, near NTR Marg in Hyderabad, by Hyderabad Metropolitan Development Authority (HMDA) on Thursday.
This fountain developed with a cost of Rs.17.02 crore, which also includes operations and maintenance of the facility for the next three years by HMDA.
According to HMDA, The fountain includes three sets of lasers to showcase various themes, fog to create a cloud effect along with music & nearly 800 jet high-powered nozzles & 880 underwater LED lights to create a dynamic effect.
The HMDA will conduct three shows each day between 7 pm and 10 pm on weekdays, and four shows on weekends and on holidays. Each show will last 20 minutes.


A 180 meters long musical fountain @ Hussain Sagar – the longest in India.#Hyderabad #HappeningHyderabad pic.twitter.com/mIV8wANrYQ

— BRS News (@BRSParty_News) February 9, 2023
ALSO READ: Hyderabad E-Mobility Week – Driving a Sustainable Future