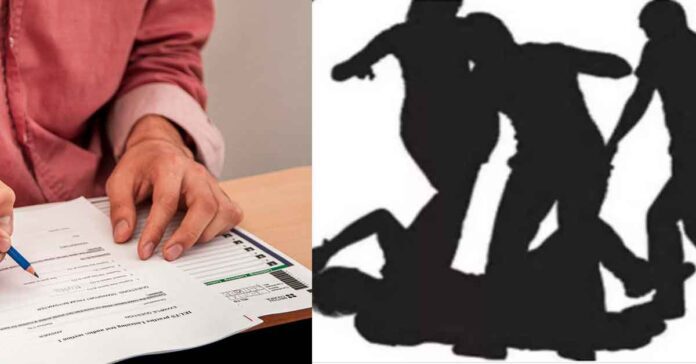 In a shocking incident, a student allegedly attacked his friend for not providing slips in the exams in Hyderabad. The incident took place at a college under Chaderghat police station limits in Old City.
The student identified as Kasab and beat his friend Arif for not providing slips during exams. The CCTV video goes Viral on social media, and Kasab is seen beating and punching Arif before their friends intervene and stop the fight. Arif became unconscious on the spot and was shifted to hospital. The condition of Arif is said to be critical due to a blood clot in his brain.
Chaderghat police registered a case after examining the CCTV footage. The police are searching for the accused.
పరీక్షలో పరీక్షల్లో చిట్టీలు అందించలేదని స్నేహితుడిపై దాడి

హైదరాబాద్ – చాదర్ ఘాట్ పోలీస్ స్టేషన్ పరిధిలో దారుణం. పరీక్షల్లో చిట్టీలు అందించలేదని ఆరిఫ్ అనే విద్యార్థితో కసబ్ గొడవపడి విచక్షణా రహితంగా కొట్టి తీవ్రంగా గాయపరిచాడు. pic.twitter.com/kDz5usHVTY

— Telugu Scribe (@TeluguScribe) September 7, 2023
ALSO READ: Karnataka: A man killed his 14-month-old baby in Raichur district