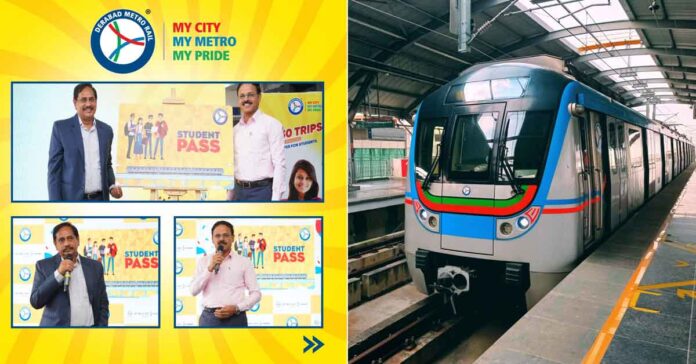 On July 1st, Hyderabad (L&T) Metro Rail introduces an exciting Student Pass 2023 offer for the convenience of the students. Netizens hail the decision made by L&T Hyderabad Metro Rail.
As per L&T Hyderabad Metro Rail statement, the travel offer is only available on new Smart Cards. The Student Pass is a limited edition offer. The Student Pass Card costs Rs. 100/- and is non-refundable.
The Student Pass Offer will be accessible for 9 months, from 1 July 2023 to 31 March 2024. Each student will receive only one smart card.
The Students should recharge for 20 trips and get 30 trips in 30 days across all fare zones.
Where to get Metro Student Pass?
Students can purchase the pass at the stations from 11 a.m. to 5 p.m.
Red Line: JNTU College, SR Nagar, Ameerpet, Victoria Memorial and Dilsukhnagar.
Blue Line: Nagole, Parade Grounds, Begumpet and Raidurg.
Green Line: Narayanguda.
Metro Student Pass in Hyderabad:
Introducing Metro Student Pass in Hyderabad Metro
Students can avail a Student Pass Metro card by showing his/her ID card, recharge for 20 rides, and get 30 rides in 30 days. Students are a large segment of Hyderabad Metro Rail commuters. They can now pay for only 20 trips & enjoy travelling 30 trips!
Introducing Metro Student Pass in Hyderabad Metro @hmrgov

Students can avail a Student Pass Metro card by showing his/her ID card, recharge for 20 rides, and get 30 rides in 30 days

Students are a large segment of Hyderabad Metro Rail commuters
They can now pay for only 20… pic.twitter.com/jajF46aIef

— KTR (@KTRBRS) July 2, 2023
ALSO READ: Rythu Bandhu scheme : Telangana government released 7,720 Cr to farmers