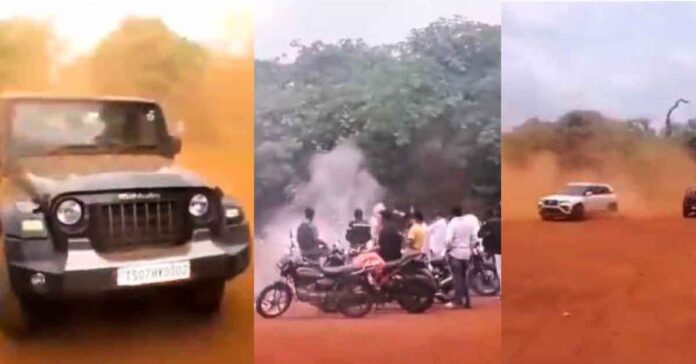 On 15th August, when people were busy celebrating Independence Day, few people chose to go for Car and bike racing in the Anantagiri Hills in Vikarabad district.
Allegedly, the youth have planned it well as they can carry on their racing as the police will be busy during the Independence Day celebrations. However, they had the racing and stunts between 10.AM to 1.00 PM.
The racing and stunts in that area are prohibited, for which the youth need prior permission from the police. However, they dared to do so and came to the forest area between 10.00 AM to 1.00 PM. Moreover, they used air guns and sirens. Unfortunately, Videos of the stunts surfaced on social media on Monday.
According to the information given by the locals, this is happening regularly on weekends. Using social media, the locals posted videos and requested the police to take stern action against the people who carried out such activities.
After the video went viral on social media, police initiated searches to nab the accused. The accused are likely to be booked for illegal use of air guns, and sirens. Police said vehicle racing activities are illegal, hence steps will be taken to curb the menace being carried out regularly on weekends.
One holiday & youth create ruckus with car & bike drag races at Ananthagiri Hills, #Vikarabad. Races were perfectly timed between 10 AM-1 PM when #Telangana cops were busy with #IndependenceDay security. Police hunting for owners to book them for illegal use of air guns, sirens. pic.twitter.com/O6r1ktfkQ4

— Krishnamurthy (@krishna0302) August 16, 2023
More videos of the illegal bike and car drag stunts in #Vikarabad. Listen to the air guns that were fired in the second video. That is illegal. pic.twitter.com/SzVEZs4lzM

— Krishnamurthy (@krishna0302) August 16, 2023
ALSO READ: Hyderabad to host WWE Superstar Spectacle event on Sep 8