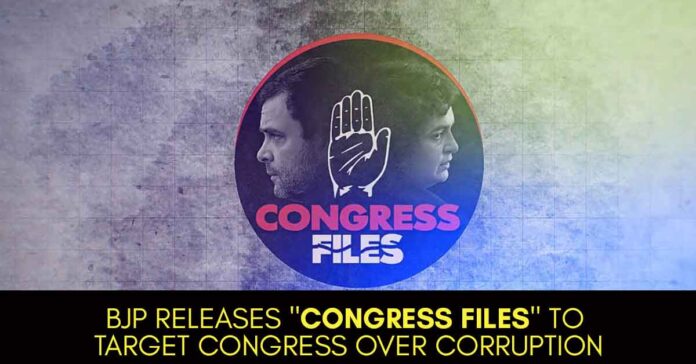 BJP started a video campaign to target the Congress over corruption. Subsequently, the first episode of the video series Congress files was released on its official Twitter handle.
The title of the first episode is "Congress files" . In this the then Prime Minister Manmohan Singh-led government's is alleged to have involved in various scams.
This video campaign comes after Prime Minister Narendra Modi last week by the opposition parties in the country. They accused the Prime Minister of corruption. The campaign was named as "Bhrashtaachari balchão Angolan".
The opposition parties have alleged that the central agencies are used as tools. Moreover, they alleged that the opposition leaders have been targeted. leaders and the agencies are attacked when they take action. Above all, even the credibility of the court were questioned.
Earlier, The Congress leader Rahul Gandhi questioned the Prime minister in the Parliament about the scams of Adani.
The video duration is three-minutes.  Apparently,  former Congress Chief Sonia Gandhi and Manmohan Singh, are shown as the key players in the scams worth ₹ 48,20,69,00,00,000 that allegedly took place during the UPA era. The scams are 2G case, Coal scam and Commonwealth Games row and many more.
Congress Files के पहले एपिसोड में देखिए, कैसे कांग्रेस राज में एक के बाद एक भ्रष्टाचार और घोटाले हुए… pic.twitter.com/vAZ7BDZtFi

— BJP (@BJP4India) April 2, 2023
ALSO READ: BJP's second campaign of "Pappu 2" Targets Aaditya Thackeray