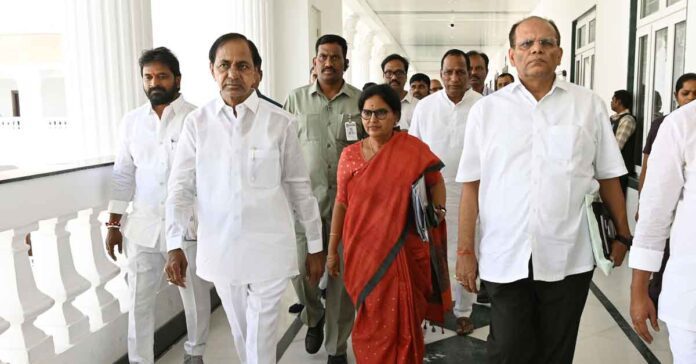 Telangana Cabinet offers Rs 1 lakh to those in traditional occupations and also scraps GO No.111, issued in 1996 to prevent undue industrialization and heavy construction activities in 84 villages and pollution of Osman Sagar and Himayat Sagar.
For the first time, a meeting was held in Dr BR Ambedkar Telangana State Secretariat to ensure the growth of communities depending on traditional occupations by extending substantial financial assistance.
A cabinet panel was established under the direction of Gangula Kamalakar, Minister of BC Welfare, to determine which areas should be given priority for aid and to develop procedures for choosing recipients and allocating resources. The committee member will be Ministers T. Srinivas Yadav, Srinivas Goud, V. Prashant Reddy, and G. Jagadish Reddy, and its purpose will be to determine whether any other communities should be considered for the aid.
On the state formation day, special assistance of Rs 1 lakh per beneficiary would disburse during the 21 day-celebrations being organized.
The meeting was also about health care services and agriculture. By replacing the current 10 with 33 District Medical and Health Officers (DMHO), medical and health services would be reorganized. All urban primary health clinics with contract personnel today would soon recruit permanent staff.
The Agriculture Minister, S. Niranjan Reddy, was appointed chairman of a Cabinet subcommittee on agriculture. Members of the committee will include Ministers Gangula Kamalakar, Errabelli Dayakar Rao, Puvvada Ajay Kumar, C Malla Reddy, and A Indrakaran Reddy. The group will research agricultural trends and provide recommendations for improving production and preventing crop losses.
It was felt that the Yasangi agricultural season needed to be moved up by one month. The Cabinet believed that crop harvesting by the end of March each year would assist in preventing significant agricultural losses. The subcommittee should try to advance the Vanakalam and Yasangi crop seasons to protect farmers from repeating crop losses.
Telangana Cabinet scraps Go No.111
Decisions @ 1st Cabinet meeting at #Telangana secretariat
-GO111 lifted in Osmansagar & Himayatsagar catchment. HMDA norms in 84villages
-Link Kaleshwaram 2 Musi
-Godavari water 2 HussainSagar after diverting drainage lines 4m reaching
-Regularize VRAs, CCLA 2 finalise guidelines pic.twitter.com/su7P2rSPIb

— Naveena Ghanate (@TheNaveena) May 18, 2023
ALSO READ: BRS will win 95-105 seats in Telangana Assembly polls, says KCR