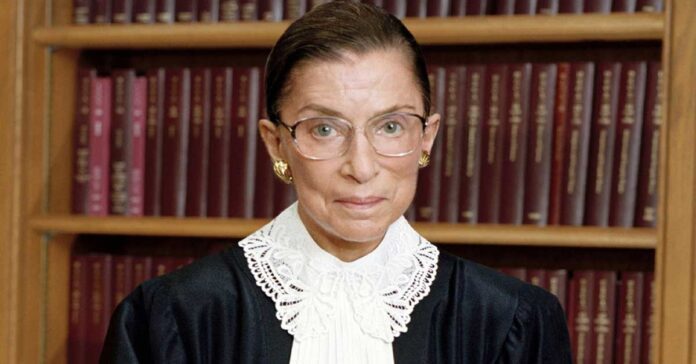 Ruth Bader Ginsburg, Supreme Court Justice, died on Friday night. She was 87. She was the second-ever woman appointed to the high court. She is the unrelenting trailblazer for gender equality.
Ginsburg was surrounded by family at her home in Washington, D.C. she died due to complications of metastatic pancreas cancer. A statement was issued by the Supreme Court on Friday night.
Chief Justice John G. Roberts, Jr., said with the death of Ginsburg, The nation has lost a jurist of historic stature. He also said that the Supreme Court has lost a cherished colleague."
After the death of Ginsburg, the Stars and Stripes was hoisted half-way up the flagpole outside the Court in her honor.
Ginsburg was small-but-mighty. She was born in Brooklyn. She paved her way through the male-dominated legal industry as a jurist early in her career and shattered gender norms as a pioneer for women's rights in the 1970s.
In her 25 years on the Supreme Court, She argued six landmark cases before the Supreme Court. She was victorious in five of them and that directed them to fairer treatment of women, as well as men.
Ginsburg  had a nickname "Notorious R.B.G." . She was known for her outspoken and scathing dissenting opinions.
Joan Ruth Bader was born on March 15, 1933. She grew up in Flatbush. She was the second daughter of Nathan Bader, a Russian Jew who emigrated to the United States in his teens, and Celia Bader (née Amster), whose parents were Polish immigrants.
Ginsburg, was a bright young student, who graduated from James Madison High School in 1950, went on to attend Cornell University and Harvard Law School.
She married Martin "Marty" Ginsburg in 1954. They had two children, Jane and James.
Ginsburg was just one of just nine women in a class of more than 500 men, at Harvard,
She was rejected for a clerkship with then-Supreme Court Justice Felix Frankfurter, who told the professor who recommended her that he wasn't ready to hire a woman in 1961.
She was victorious in her very first case. She is one of the most influential people of the 21st Century.  She changed a lot of the way people think about gender-based discrimination.
As a judge on the Washington, D.C. Circuit of the Court of Appeals, she has penned more than 700 opinions over 13 years.
Ginsburg ascent to the Supreme Court — the highest court in the land comprised of nine justices. She said that she sought this high position to serve the society.
Ginsburg succeeded Sandra Day O'Connor to be appointed to the Supreme Court. She was the second woman to be appointed.
ALSO READ: Black Panther star Chadwick Boseman dies of colon cancer at 43