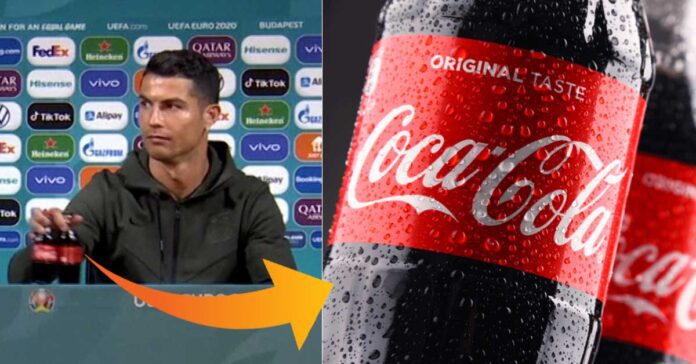 Cristiano Ronaldo moving two Coca-Cola bottles out the frame at Euro 2020 press conference and holding up a water bottle which soon went viral on social media.
Something unusual happened at the press conference ahead of the Portugal Vs Hungary match in the UEFA Euro Championships.
According to the video which viral on Twitter, in a very dignified manner, striker Cristiano Ronaldo removed the two bottles of Coca-Cola that had been placed in front of him. He held up the bottle of water and said "Aqua" making his preference very clear.
Water only for Cristiano Ronaldo ⛔

(via @EURO2020) pic.twitter.com/XZBDoDnIZJ

— B/R Football (@brfootball) June 15, 2021
It is important to know that the beverage board is a sponsor of the Championships.
However, Indian Express reports that subsequently, the share price of Coca-Cola dropped by 1.6 percent. Furthermore, the market valuation of the company lost $4 billion.
Very soon, the company issued a statement that said "everyone is entitled to their drink preferences" with different "tastes and needs"
Nevertheless, the incident sparked  floods of memes online.
Reel vs Real
Influencers#ronaldococacola pic.twitter.com/JKaZU45fpe

— ʸᵃˢⁱʳ ᴬˡⁱ (@myasiraly) June 17, 2021
ALSO READ: Centre Shock: Twitter Loses Intermediary Status In India