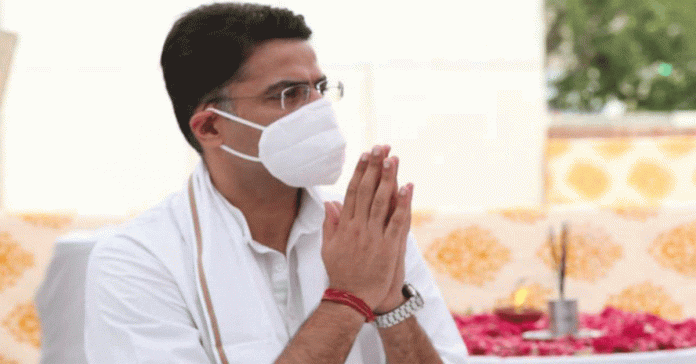 Rajasthan crisis: Sachin Pilot and 18 other Congress legislatures had moved the court after the Speaker sent them notices on Congress' complaint urging action against them.
Partial relief was given by the Rajasthan High Court on Tuesday to Congress dissidents Sachin Pilot and 18 other party MLAs in connection with the disqualification notices issued to them by Assembly Speaker CP Joshi.
The division bench of the High Court comprising Chief Justice Indrajit Mahanty and Justice Prakash Gupta directed the Speaker to defer his decision on disqualification till July 24.
The high court will pronounce its order on dissident Congress MLAs' petition on July 24. "The arguments in the matter have been concluded. The court has heard the arguments from all the parties. The High Court has slated the matter for orders on July 24," Advocate Prateek Kasliwal, appearing for Rajasthan Legislative Assembly Speaker CP Joshi said.
Noted lawyer Harish Salve and former Attorney General Mukul Rohatgi are representing the Pilot camp in the court. While appearing before the court today, Rohtagi started his arguments citing Kihoto Hollohan v. Zachillhu case.
Rohtagi argued that the fact emerging from the case points towards a malafide intention. To prove his submission, the lawyer contended that the notice was issued on the same day the Congress registered its complaint with the Speaker.
Abhishek Manu Singhvi, who is appearing on behalf of the Speaker, on Monday, argued that the petition was premature as only notices were sent and a decision was yet to be taken on disqualifying the MLAs from the House. "The petition of the Pilot camp is premature and it should be rejected," he had contended before the court.
Besides Pilot, other Congress dissidents who have been served the notices are Ramesh Meena, Indraj Gurjar, Gajraj Khatana, Rakesh Pareek, Murari Meena, P.R. Meena, Suresh Modi, Bhanwar Lal Sharma, Vedprakash Solanki, Mukesh Bhakar, Ramnivas Gavadia, Harish Meena, Brijendra Ola, Hemaram Chaudhary, Vishvendra Singh, Amar Singh, Dipendra Singh and Gajendra Shekhawat.
ALSO READ: Rajasthan HC resumes hearing on Sachin Pilot, 18 other rebel Congress MLAs' plea