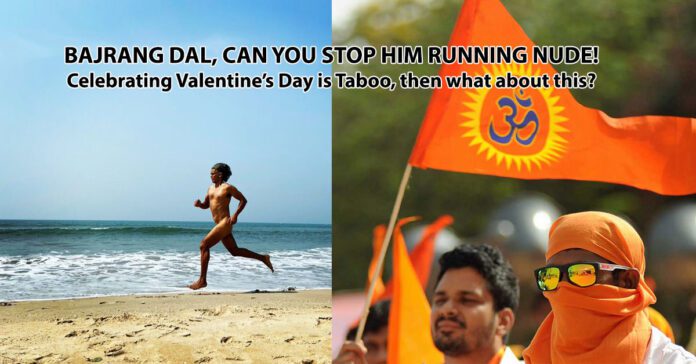 Media is filled with pictures and posts of Milind Soman celebrating his 55th birthday in Goa, running nude and his wife Ankita Konwar clicked pictures of him and posted in the social media. It also said that Milind Soman turned 55. Is it a great achievement or a shameful thing to talk about?
Undoubtedly, the couple maybe internet's favorite couple, and the media greatly proclaims that the couple never shies away from expressing their love for each other and often post love-filled notes on the gram. Expressing love is not wrong but the way you do it is very important. As actors or models they are followed by many youngsters, hence they need to be careful.
Films are censored, scenes are cut but such celebrations which seems nomadic are supported. Why does this hypocrisy of supporting one and opposing the other, exist here.

Many questions gushed into the minds of people who are really worried about our tradition and culture. Is it the Hindu or Indian culture, are cultivating it now or is it going to set great examples to our future generations? If this culture can be adapted or encouraged than Valentine Day celebration also should not be opposed.
Then where are the so- called culture saviors of our country, like Bajrang Dal and many other such groups are against Valentine's Day due to the valid reason that it does not belong to Hinduism in any way nor it is related with Indian or Hindu culture and young blood (both girls and boys) should condemn and ignore such "Days" and should strictly adopt Hinduism.
These loyal servants of Mother India and upholders of our countries glorious culture and traditions also planned to get the couples married, who are found celebrating the valentines day at their own cost.
It is said that the main motive of these groups is to keep the values which we have and those values are our religious values, spiritual values, social values as as well as our motive for humanity.
All this is appreciable but how come they are blind folded regarding this new culture being appreciated by everyone.
Surprisingly, Milind Soman was a part of the RSS in his younger days. Wonder what was imparted to him.
ALSO READ: Entire Village Boycotts polling in Muzaffarpur as there is "No Development"