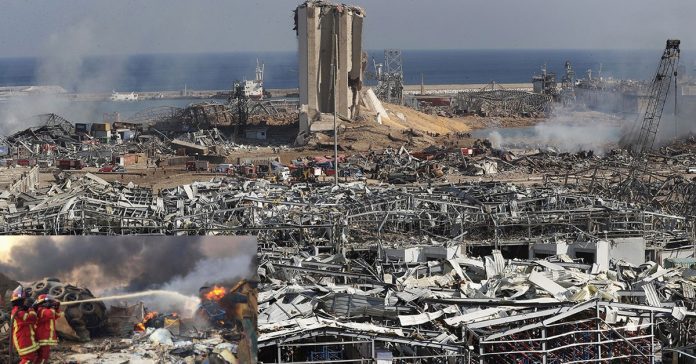 On Tuesday a massive explosion rocked the entire Beirut, causing damage to city's port, damaging buildings round the city and sending a giant mushroom cloud into the sky.According to officials it took more than 70 people were killed and 3,000 injured with bodies buried under debris.
The actual cause of the blast is not clear. According to Germany's geosciences center GFZ it struck with the force of a 3.5 magnitude earthquake. Lebanon's interior minister said large amount of ammonium nitrate in the port may cause the explosion.
Already the country struggling with both the coronavirus pandemic and a severe economic and financial crisis now this blast has devastated the country. After the blast ambulances rushed to carry away the wounded people round the capital.
It is the most destructive in all of Lebanon's troubled history because they have seen 15-year civil war.
Houses around the port, where the explosion took place, wounded residents were found on the streets, buildings were shattered; streets were filled with overturned cars. Doors and windows were blown out miles away. This incident damaged the city's only international airport
Interior Minister Mohammed Fahmi said a local TV station that 2,700 tons of ammonium nitrate had been stored in a warehouse at the dock ever since 2014 in a cargo ship and that caused the blast.
Those who witnessed this incident said that an orange cloud like that which appears when toxic nitrogen dioxide gas is released after an explosion involving nitrates. Videos also showed the same. Charbel Haj who works at the port said that the blast started like a small firecracker but soon he was thrown off his feet.
Ongoing tensions between Israel and the Hezbollah military group on Lebanon's southern border may be considered as a reason of the explosion. Many residents confirmed this rumor. But Israeli Government official denied this rumor.
US President Donald Trump said they are ready to assist Lebanon in this situation, and U.S. Secretary of State Mike Pompeo extended his "deepest condolences."
Health Minister Hassan Hamad told that more than 70 died and more than 3,000 wounded. He also added that hospitals have already tried their best to cope up with the situation.
Beirut's governor, Marwan Abboud took a tour round the city and said "Beirut is a devastated city." PM Hassan Diab vowed that "those responsible will pay."
Trump said the explosion "looks like a terrible attack." According to him he spoke with his generals and they also feel the same.
Boaz Hayounone the best Bomb expert, said fireworks could have been a factor setting off the bigger blast.
Lebanon's economy already is facing collapse from the financial crisis and the coronavirus restrictions t this time blast cause huge damage. Many lost their jobs only savings help them to survive. Thousands of people of Lebanon lost their homes. Also their main port got devastated in this blast. Now the question arises about how they can import their vital goods.
Hospitals were damaged; wounded people were being treated on the spot on the streets, on stretchers and wheelchairs. Electricity of several hospitals lost.
The U.N. peacekeeping mission in Lebanon, UNIFIL, said as the incident took place in the port one of their ships was damaged and their men also were injured..
French President Emmanuel Macron said in a tweet he had sent aid to Lebanon to alleviate this situation.
ALSO READ : Punjab hooch tragedy: 86 people died due to toxic liquior,6 cops,7 excise officials suspended