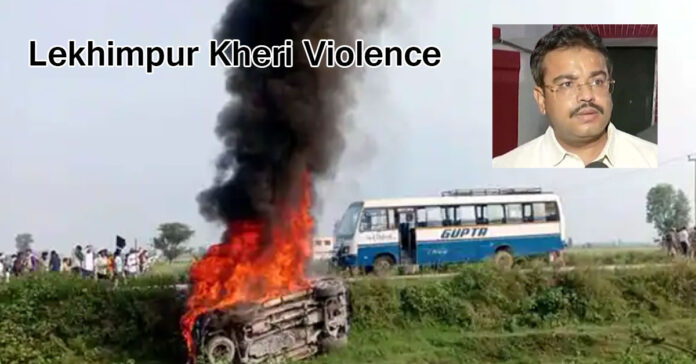 Violence erupted when one of the cars in the convoy of Union Minister Ajay Mishra mowed down the protesters at Lekhimpur Kheri. Protesters alleged that the car which mowed down the farmers was being driven by Union Minister's son, Ashish Mishra.
According to media reports, violence erupted when farmers tried to gherao Union Minister Ajay Mishra and his deputy Keshav Maurya on their visit to Lekimpur Kheri.
Earlier, the Union Minister Ajay Mishra had commented on the farmers protest. Hence, they did not want him to visit Lekhimpur Kheri.
Witnesses claim that the farmers were peacefully protesting but were curbing the visit of the Union Minister.
Irked by the presence of the protesters, the car which was being driven by Union Minister's son, Ashish Mishra mowed down the protesters resulted in killing the four farmers among eight people in the incident.
Enraged with the killing of their fellow protesters, the violence erupted. Angry protesters burnt vehicles and visuals of arson can be seen there.
However, the Union Minister denies that his son was present there during the incident.
"My son wasn't present at the spot. There were miscreants who attacked workers with sticks and swords. Had my son been there, he wouldn't have come out alive" Mr. Mishra said. While speaking to ANI, he said, "My son was present at the venue of the (Deputy Chief Minister's ) event… all through, I was accompanying the deputy chief Minister, he said.
Several other people are also named in the First Information Report (FIR).