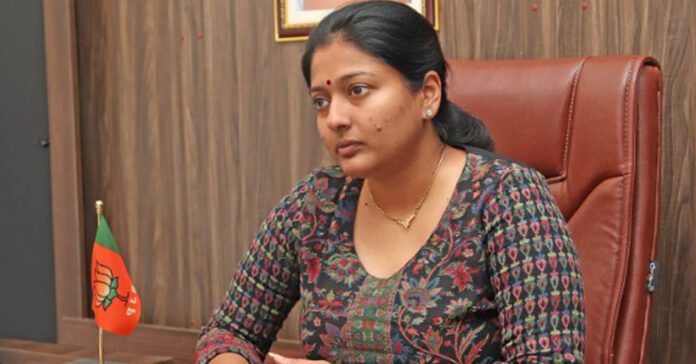 Gayathri Raguramm, an actor and choreographer who recently worked as the president of the Tamil Nadu BJP's International as Well as other States Tamil Development wing, resigns from BJP party.
Gayathri blamed her resignation on BJP State President K. Annamalai in a number of tweets. She claimed that the party unit did not provide equal rights and respect for women, and that "women are not safe" under Annamalai's governance.
Mr. Annamalai fired Ms. Raguramm as president of the International and Other States Tamil Development Wing in November for a six-month period. He stated that she has been breaking party rules continuously and bringing the party into improper conduct.
Earlier, Ms. Raguramm had questioned the way she was removed from her post without a fair investigation. Moreover, she claimed that she had been mistreated by a section of party men on social media. She claimed that "true karyakartas" were unimportant and criticized Mr. Annamalai for working to remove them.
She also expressed her admiration for Prime Minister Narendra Modi and Home Minister Amit Shah.
No one here cares about true karyakartas; Annamalai's only goal is to chase them away. "I hoped the BJP all the best", she added in another tweet.
Gayathri stated that she was ready to file a police complaint, handing over all the proofs. She had to launch an investigation into Mr. Annamalai and a social media "war room" supporting him, which she claimed was bothering her.
I have taken the decision with heavy heart to resign from TNBJP for not giving opportunity for an enquiry, equal rights & respect for women. Under Annamalai leadership women are not safe. I feel better to be trolled as an outsider.
.@narendramodi .@AmitShah @JPNadda @blsanthosh

— Gayathri Raguramm 🇮🇳🚩 (@Gayathri_R_) January 2, 2023
ALSO READ: BJP MP Pragya Thakur.. Asks Hindus to keep sharp weapons at home