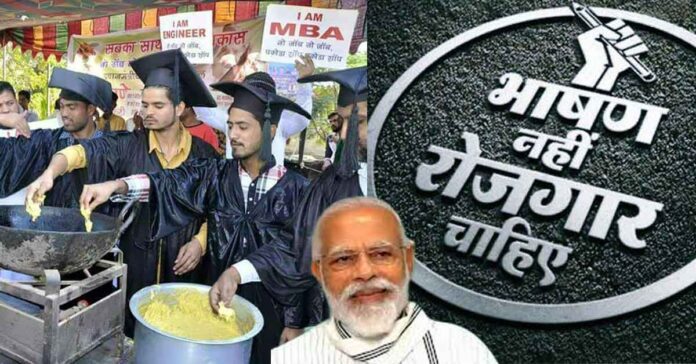 Nation has five important questions on Mr. Modi's statement about creating more employment in India for the youth of this country.
Prime Minister Narendra Modi had promised 2 crore employment opportunities in India for the youth during the 2014 Election Campaigns.
It is 2021, and the youth of this country is still in the hope of a future, where there will be employment opportunities in India as promised.
Let's remind ourselves that India's youth were instrumental in bringing Narendra Modi and the Bharatiya Janata Party (BJP) to power with a thumping majority, in 2014. Most of these supporters were first-time voters, recent college graduates from all cross-sections of society.
Unfortunately, this promise of employment opportunities in India, like many other promises, is now forgotten. The term 'achche din', has turned out to be a giant jumla.
Recently, PM Modi reportedly said that over 1 crore employment opportunities in India were created in the country over the past year. Undoubtedly, PM Modi has failed miserably in creating employment opportunities in India.
The failure of this government to generate employment has been proven beyond doubt. What is very worrying is the growing evidence that there was apparently never any serious intention to create jobs in the first place. This has been echoing among senior BJP leaders too.
When Union minister Nitin Gadkari was questioned about reservation in jobs, he relied, "Even if reservation is given, there are no jobs".
ALSO READ: Unemployment crisis: Over 60 lakh white collar professional jobs lost during May-August
The Modi Government has destroyed the Economic Growth of our nation. Millions of jobless youth are awaiting the promised 2 crore Jobs.
There has been a drastic decrease in employment in India. India lost 2.1 crore salaried jobs by the end of August, down from 8.6 crore in 2019-20 to 6.5 crore last month.
ALSO READ: 1.25 cr jobs, 31 districts, 125 days: PM Modi to launch Atma Nirbhar UP Rojgar Abhiyan
Avaaz24 has the following questions on his statement about creating more employment opportunities for the youth of this country.
What kind of employment in India is he promising?(Public Sector/Private/Daily wages)

To whom is he promising?(for Graduates/Post graduates/skilled/unskilled labor)

Where are the promised jobs so far? Is there any authentic proof of the said opportunities?

How many have been recruited/got new opportunities in these 7 years? Is there any statistical data available on the public domain or the RTI?

Is it reality or publicity?
ALSO READ: Unemployment in India has increased by three-fold amid the lockdown