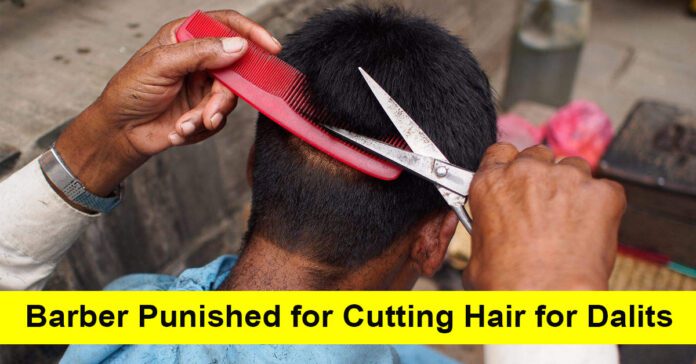 A barber punished and his family was boycotted in Nanjanagudu taluka of Mysore district on the pretext of cutting hair for dalits (SC and ST communities). This barber who lives in Mysuru Faces Fine and Social Boycott for Offering Services to SC, ST, OBC Customers.
This barber was breathing a sigh of relief as customers started coming to his shop after the corona crisis. Little did he know that he that people are still obsessive of their caste. The village elders misbehaved with the barber and was asked to pay a fine of Rs 50,000 for not obeying the rules made by the upper castes.
A barber has alleged that he has been boycotted from his village by upper castes for offering services to customers from Scheduled Caste, Scheduled Tribes, and Other Backward Classes. He has also been fined Rs 50,000 for not obeying the rules made by the upper caste members.
Trouble started when a person named Mahadeva Nayak along with his aides descended on Shetty's salon . He ordered Mallikarjun Shetty , the barber, not to cut the hair of members from the lower caste.
He was also told by these men to overcharge customers from the marginalized backgrounds. They told him to charge as high as Rs 200 for a shave and Rs 300 for a haircut. Shetty responded that he cannot charge more than Rs 80 and Rs 60 for a haircut and shave respectively. He told them that the charges would be the same for everybody.
Subsequently, Shetty approached the police, and informed the police about the incident for which Nayak and his men were warned. However, to Shetty's disbelief, the matters only became worse after that.
Nayak and his aides not only asked Hallare villagers to boycott Shetty, but also took Shetty's 21-year-old son to their residence and forced him to drink alcohol. After he was drunk, he was allegedly stripped naked and his video was shot.
Shetty decided to approach the police again, Nayak and his men threatened to share his son's video on social media. This prevented Shetty from filing a police complaint, afraid of the consequences.
Shetty sought their intervention of the police but has been unwilling to file a case. Later Mahadeva Nayak showed the video of Mallikarjun' [Shetty]'s son to the police. The police counselled both of them and sent them back as Mallikarjun did not file a complaint.
However, Shetty has alleged that the police did not react for the social boycott was continuing. When Shetty felt that even the Nanjangud tahsildar did not help, Shetty no option but to speak to the media.
ALSO READ: UP: Dalit boy shot by upper caste youth for praying at temple in Amroha