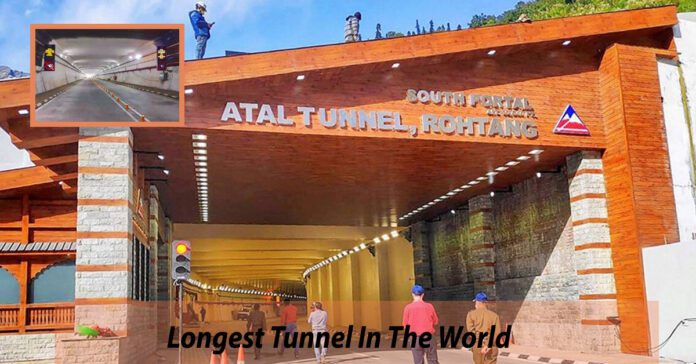 Prime Minister, Narendra Modi inaugurated the Atal tunnel in Rohtang, Himachal Pradesh. Atal Tunnel, Rohtang is a highway built tunnel built under the Rohtang pass. It was (previously called Rohtang tunnel) named after former Indian Prime Minister Atal Bihari Vajpayee.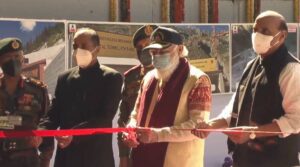 This is the longest tunnel in the world. The 9.02Km long tunnel connects Manali to Lahaul-Spiti valley throughout the year. The tunnel is expected to reduce the distance between Manali and Leh by 46Km.The Tunnel is built with ultra-modern specifications in the Pir Panjal range of Himalayas at an altitude of 3000 Mtrs from Mean sea level.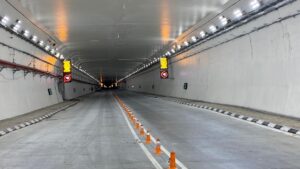 It is a horseshoe-shaped, single tub double lane tunnel with a roadway of 8Mtrs. The tunnel has been designed for traffic density of 3000 cars per day and 1500 trucks per day with max speed of 80Km/hr.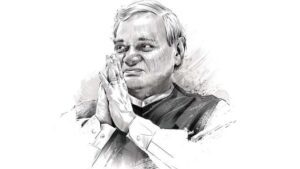 The name Rohtang tunnel as Atal Tunnel was decided to honour the former Prime Minister Shri Atal Bihari Vajpayee. Union cabinet met under the chairmanship of Prime Minister Shri Narendra Modi on 24th December 2019 and took the decision. After attending the inauguration function of the Atal Tunnel at South Portal, Manali, and Prime Minister Shri Narendra Modi shall be participating in public functions at Sissu in Lahaul Spiti and Solang Valley.
Atal tunnel will give new strength to India's border infrastructure. It is an example of world-class border connectivity. There have been demands to improve border infrastructure but for a long time, such projects either couldn't get out of planning stage or got stuck midway – PM Modi said. PM Modi said that, not only Atal ji's dream is fulfilled, the decades-old wait for people of Himachal Pradesh has ended today.
The Atal Tunnel is a great technical achievement for our country. Atal tunnel is going to become the lifeline of Himachal Pradesh.
ALSO READ: PM Modi, India needs tax breaks not Religious statements