From showering rose petals to illuminating naval vessels: This is how armed forces will salute corona warriors
The Armed Forces, showered rose petals over hospitals treating Covid-19 patients. The Armed Forces have saluted the coronavirus warriors through various military gestures.
The showering of rose petals over hospitals to illuminating naval vessels is how they are going to their solidarity to the frontline warriors on Sunday.
The nation has witnessed fly pasts by fighter and transport aircrafts of the Indian Air Force (IAF) at multiple locations on Sunday. Chief of Defence Staff (CDS) General Bipin Rawat Rawat announced it.
These aircrafts covered major towns starting from Srinagar to Thiruvanathapuram and Dibrugarh to Kutch. As a tribute to the coronavirus warriors, the helicopters from the IAF and Indian Navy flew over hospitals treating coronavirus patients and showered petals.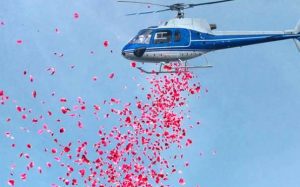 The IAF showered flower petals over two hospitals in Ahmedabad and Gandhinagar.
Flower petals were dropped in Itanagar, Guwahati, Shillong and Kolkata. The Air Force band was played in Guwahati too for paying tribute to the corona warriors.
In Uttar Pradesh's Lucknow, the flower-petal showered at KGMU and SGPGI Trauma Center. Fighter aircraft flew past over Vidhan Sabha in Lucknow.
In the National capital, the fighter and transport aircrafts flew. The aerial salute to the corona warriors' has been scheduled in Delhi. Fighter aircraft formations, comprising of the Sukhoi-30 MKI, MiG-29 and Jaguar flew over Rajpath, moved  over Delhi and will be visible to the residents of Delhi from their roof tops.
In addition, C-130 transport aircraft followed a similar profile as fighters covering the entire Delhi and NCR region. The aircraft flew at an approximate height of 500 meters to 1,000 meters keeping aerospace safety in mind especially in respect of bird activity.
Additionally, helicopters dropped flower petals over the Police War Memorial at 9 am, followed by Delhi hospitals involved in providing relief to patients of Covid-19.
The list of hospitals includes: AllMS, Deen Dayal Upadhyay Hospital, GTB Hospital, Loknayak Hospital, Ram Manohar Lohia Hospital, Safdarjang Hospital, Sri Ganga Ram Hospital, Baba Saheb Ambedkar Hospital, Max Saket, Rohini Hospital, Apollo Indraprastha Hospital and Army Hospital Research and Referal.
The aerial salute from the armed forces will be flown as low as 500 meters so that everyone is able to witness the same from their home. Military bands all over the country will visit various civil hospitals treating Covid-19 patients to express their gratitude by playing patriotic tunes.
Indian Naval aviation assets showered petals by helicopters on hospitals treating Covid-19 patients in Mumbai, Goa, Kochi and Vizag.
In the evening, Naval ships on the coasts of Mumbai, Porbandar, Karwar, Vizag, Chennai, Kochi and Port Blair will light up and flare fires in solidarity with the corona warriors.