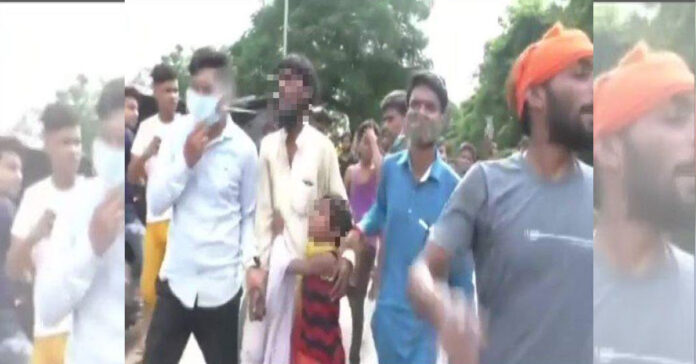 A 45-year old Muslim man was paraded through a street after assaulted by a mob accusing him of religious conversion in Barra area of Kanpur. The incident happened in Uttar Pradesh's Kanpur town, he was made to chant "Jai Shri Ram" slogans on Wednesday.
Eventually this man was handed over to the police. Locals took video of the distressing incident. In the footage, the man's little daughter can be seen clinging on to him. She was begging the attackers to spare him.
Surprisingly, the man was being beaten even in the presence of the police.
The members of the Right wing group Bajrang Dal held a meeting in the intersection in the area. The claimed in the meeting that Muslims in the area were trying to convert a Hindu girl in their locality. Soon after the meeting they assaulted this 45 -year old man.
However, the Kanpur police have filed a case of rioting against a local. In a shocking development, case was filed on a local who runs a marriage band and his son.
Furthermore, 10 unknown people's names are mentioned in the complaint. The police did not mention if the men named in the case belonged to Bajrang Dal.
The man who was assaulted said that when he was driving his e-rickshaw, few people started abusing him and assaulted him. They threatened to kill him and his family. He said that he is saved because of the police. However, he hasn't spoken to the media yet.
According to the sources, the man is a relative of a Muslim family who resides in the same locality. There was a legal dispute with their Hindu neighbors. The two families filed cases against each other at the local police station.
The Muslim family filed an FIR of assault and criminal intimidation first. On the contrary, the Hindu family then filed a case alleging "assault with the intent to outrage the modesty of a woman"
ALSO READ: Kinnaur landslide: 13 Dead, Over 25 Feared Trapped