World highest Railway Bridge in India
The highest railway bridge in the world is an 'Infrastructural marvel' in the making. The first pictures of the "Infrastructural Marvel", Chenab bridge, which is under-construction is breathtaking.
This bridge is being built by Indian Railways and it is very close to achieve this milestone. The Ministry of Railways shared the picture of the bridge which is close to completion. The pictures reveal that there is no support in between except for at both ends. The arch is, however, supported by piers and trusses.
Infrastructural Marvel in Making: Indian Railways is well on track to achieve another engineering milestone with the steel arch of Chenab bridge reaching at closure position.

It is all set to be the world's highest Railway bridge 🌉 pic.twitter.com/yWS2v6exiP

— Piyush Goyal (@PiyushGoyal) February 25, 2021
Few interesting facts about the bridge
The World's highest Railway Bridge, Chenab bridge is 1.315-km long.
Chenab bridge is being built above the Chenab river at a height of 359 meters from the riverbed in Jammu and Kashmir.
The height of the Chenab bridge is 35 meters more than the Eiffel Tower in Paris.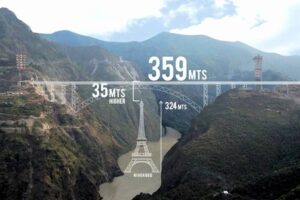 It is also five times the height of the Qutab Minar in Delhi.
The length of the bridge will be 1,315 meters with 17 spans,
of which the span of the main arch across Chenab river will be 467 meters.

The cost of the 1.3 km long bridge is estimated at around Rs 1,250 crore.

1,300 workers and 300 engineers are engaged in the making of the bridge.

The Chenab bridge is likely to have a life span of 120 years

It is touted to be the seventh-largest arch-shaped bridge in the world.

the Chenab bridge is constructed to withstand 8 magnitude earthquakes and high-intensity blasts.

Construction
The construction of the bridge started in 2004. Unfortunately, The construction work was halted between 2008-09 due to frequent high velocity winds in the area. The change in location of the bridge was also considered then by the Indian Railways briefly but decided to go with the original one. The Chenab Bridge construction was supposed to be completed in December 2009. Subsequently, the work on the bridge restarted in 2010.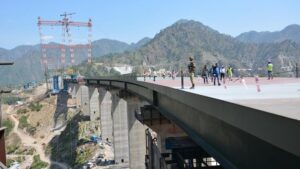 ALSO READ: Durgam Cheruvu cable bridge almost complete
Barring all the odds, the construction resumed in July 2017 with plans to complete the work of the Arch Bridge by "May 2019". The active construction was going on in Nov 2018. Then they realized that they may not be able to complete the project by the end of 2019. 83% of the work was completed by Aug 2019. There are plans to open the Chenab Bridge by March 2021.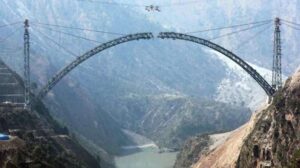 ALSO READ: Five planets can be seen with naked eyes in coming week, says Hyderabadi scientist