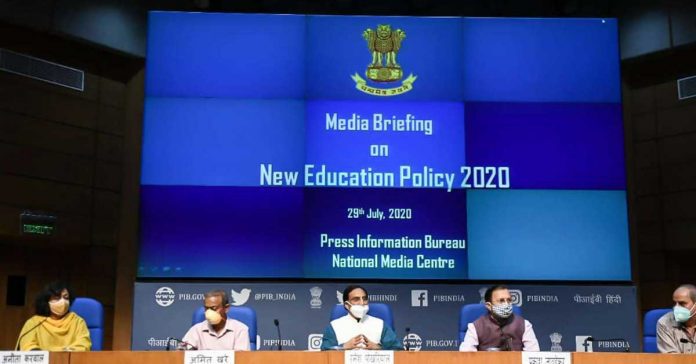 New National Education Policy 2020 or NEP has received the nod. Cabinet has finally approved the New National Education Policy 2020.
Union Ministers Prakash Javadekar and Ramesh Pokhriyal Nishank,  who have played a key role in the policy development, presented the same and have given the briefing.
The Ministry of Human Resource Development would henceforth be referred to as the Ministry of Education. From School Education to Higher Education, the NEP visualizes to provide a new structure to the education sector of the country.
The Secretary of Higher Education and Secretary of School Education, have shared the key points from the policy.
Existing 10+2 Structure to be modified to 5+3+3+4 structure where the first three years would be formative play school years of nursery and Kindergarten. The structure would cover ages of 3 to 18 years of age.
Foundational State of 3 and 2 years would include play school and Grades 1 and 2, Preparatory Stages of Grade 3 to 5, Middle School of Grades 6 to 8 and Secondary Stage of Grades 9 to 12.
Emphasis on Early Childhood Care and Education or ECCE for ages 3 to 6 where provisions would be made to ensure universal access to high quality ECCE across the country in phased manner.
4 years for higher secondary gets lift up – Arts, Commerce, Science removed – Students to choose what they want to choose. Coding to begin from Class 6. Music, Arts, Sports, would be at the same level. Students will be given increased flexibility and choice of subjects to study, particularly in secondary school – including subjects in physical education, the arts and crafts, and vocational skills
Early childhood care and education to get a complete National mission on Foundational Literacy and Numeracy to be set up to focus on foundational literacy.
Indian Knowledge Systems, Languages, Culture and Values to be given focus. Furthermore, Technology would be used extensively. E-Content in Regional Languages would be developed and not only in Hindi and English. Schools to be digitally equipped. National Educational Technology Forum, NETF would be formed.
All State/UT governments will prepare an implementation plan for attaining universal foundational literacy and numeracy in all primary schools for all learners by grade 3 to be achieved by 2025.
NIOS and State Open Schools will also offer A, B and C levels that are equivalent to Grades 3, 5, and 8 of the formal school system; secondary education programs that are equivalent to Grades 10 and 12; vocational education courses/programs; and adult literacy and life-enrichment programs.
Curriculum content will be reduced in each subject to its core essentials – key concepts, ideas, applications and problem solving. Emphasis on critical thinking and more holistic, inquiry-based, discovery-based, discussion-based, and analysis-based learning
The three-language learned by children will be the choices of States, regions, and of the students, so long as at least two of the three languages are native to India.
New National Education Policy 2020: Higher Education Key Highlights
Regulatory System of Higher Education to be distinct for regulation, accreditation, funding and academic standard setting – all under the umbrella of Higher Education Commission of India or HECI.
4 Verticals of HECI to be National Higher Education Regulatory Council or HNERC, National Accreditation Council (NAC), Higher Education Grants Council (HEGC) and General Education Council (GEC) which would further form a National Higher Education Qualification Framework.
UGC, AICTE to be replaced by a single Higher Education Regulator – HECI.
The professional councils, such as the Indian Council for Agricultural Research (ICAR), Veterinary Council of India (VCI), National Council for Teacher Education (NCTE), Council of Architecture (CoA), National Council for Vocational Education and Training (NCVET) etc., will act as Professional Standard Setting Bodies (PSSBs).
Universities to be named not on the basis of ownership but on quality of education.
Impetus to multidisciplinary education. Even IITs to move towards a more holistic curriculum with arts and humanities.
The undergraduate degree will be of either 3 or 4-year duration, with multiple exit options within this period, with appropriate certifications, e.g., a certificate after completing 1 year in a discipline or field including vocational and professional areas, or a diploma after 2 years of study, or a Bachelor's degree after a 3-year programme. The 4-year multidisciplinary Bachelor's programme, however, shall be the preferred option.
Students pursuing 4 year degree programme would have an option of getting a degree with Research if the research process is completed in the area of study as specified.
National Research Foundation would be set up with a goal to enable 'a culture of research'. NRF would be governed independently by rotating board of governors. Primary task or NRF would be to fund competitive, peer reviewed grant proposals of all types and across all disciplines and also act as a liaison between researchers and relevant branches of government so as to allow breakthroughs.
Major reforms suggested in the higher education to give more flexibility to the students. Students can choose any set of subjects for higher education, take sabbatical and other options.
NEP Draft was presented in 2019 where it quickly received both appreciation as well as strong criticism. The suggestion of making Hindi one of the compulsory languages was soon shot down by many. The draft was then put in public domain and suggestions invited from the people and all stakeholders regarding the policy. MHRD had received lakhs of suggestions and the NEP draft was accordingly modified.
ALSO READ: 179 Colleges closed in the Academic Session of 2020-2021