The former Chief Justice of India and Ranjan Gogoi who is also a Rajya Sabha MP said that he would not take a legal recourse against TMC legislator Mahua Moitra for her allegations against him.
Rajya Sabha member and former Chief Justice of India Ranjan Gogoi has criticized the judiciary. He said if one goes to Indian courts they would have to wait endlessly for a verdict. He said that the judiciary in India is in a "ramshackle" state.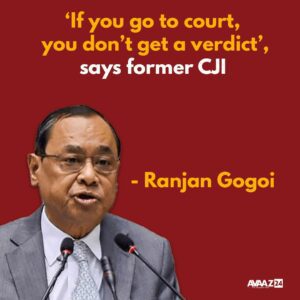 ALSO READ: Delhi Man Stabbed to Death, All Four Suspects Arrested
While responding to a question about allegations levelled by Trinamool Congress MP Mahua Moitra. She had questioned the sanctity of the judiciary while raising sexual harassment allegations against the former CJI.
She had also alleged that Gogoi was made an MP after he ruled in favor of Hindus in the Ayodhya dispute and had rejected an inquiry against Prime Minister Narendra Modi's government in graft allegations involving the purchase of fighter jets.
ALOS READ: Girl shot in head by youth in head in Hapur, victim in critical condition