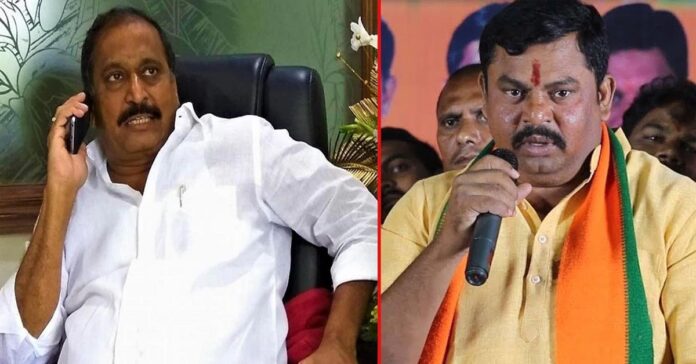 BJP MLA Raja Singh accuses Srisailam MLA Silpa Chakrapani Reddy of promoting Muslims in the temple town. Mr. Raja Singh, who is most famous for highly controversial statements and hate speech has rightly understood the working style of the BJP. 
He is now in the race of proving his skills to match with the checklist of skills that every BJP leader should demonstrate. Looks like, MLA Raja Singh has decided to follow the footsteps of his colleague Mr. Bandi Sanjay to become famous overnight.
In this pursuit of becoming famous he has accused Srisailam MLA Silpa Chakrapani Reddy ( YSRCP) of promoting Muslims in the temple town.
The BJP MLA Raja Singh from Hyderabad has raised a new controversy and alleged that Srisailam temple was under the control of Muslims and all contracts and shops were monopolized by them. Raja Singh has also accused that the cows in Goshala are being killed to extract their meat.
YSRCP leader from Srisailam Mr. Silpa Chakrapani Reddy has denied the charges and condemned the language used by MLA Raja Singh and said that he was ready for a debate after Sankranti.
Srisailam, is one among the 11 Shaktipeeths. It is an important Jyothirlinga in India. It is said that the controversy is raised as this temple has become a major revenue source of commerce and business. It is alleged that the business is carried over by Muslims here.
Raja Singh had alleged that one Razaq, who is a contractor with Srisailam temple as he is a close aide of MLA Silpa Chakrapani Reddy. Razaq's wife, a hindu is employed as a supervisor in the temple.
He has also alleged that as Razaq's brother is a TDP leader, the Razaq brothers are controlling the temple with the help of political parties, Irrespective of which party is in power.
ALSO READ: India, not a safe place for Muslims under Modi government – SAC Report