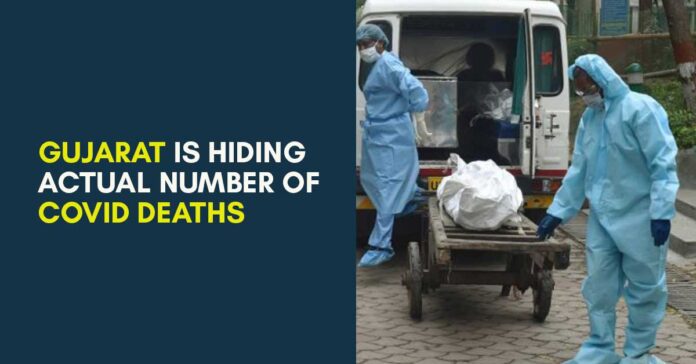 Gujarat: The number of covid deaths and the death certificates issued do not match at all. It is said that around 1.23 lakh death certificates have been issued in the last 71 days. Surprisingly, the number of deaths due to Corona is 4,218, according to the government reports.
New cases of Corona and deaths are increasing rapidly. However, the government has it's own statistics. Districts like Surat, Bhavnagar, Ahmedabad, Rajkot and Jamnagar are the worst effected. It is said that large queues are there at the crematoriums. Despite all these, the gujarat is hiding the real figures of covid deaths.
When the data was scrutinized for the last 71 days, it is seen that the deaths are 4,128, whereas the number of death certificates are 1 lakh and 33 thousand. Now the question is 'Did 1.25 lakh people die natural deaths?
When questioned about this the government said that 80% of the population suffering from covid deaths of other complication besides Hypertension. 38% died due to Hypertension in the state. 28% died due to diabetes and kidney related diseases. 14% of them died to minor illnesses after contracting with corona. 4% of deaths due to blood clotting.
On checking the death certificates, it is shocking to see that 60% of the deaths were of patients who belonged to 45+ years old. 20% of the dead were less than 25 years of age.
When the Chief Minister was asked about hiding the correct figures of the dead, he denied hiding the figures. Mr. Vijay Rupani said that those who died to co-morbidity are not included in the figures who died of corona. Furthermore, he said that if a person has corona and is suffering from serious diseases related to diabetes, heart or kidney, then his death is not considered as corona.
ALSO READ: The Brave Girl from "Love You Zindagi Viral Video" died, tweets doctor