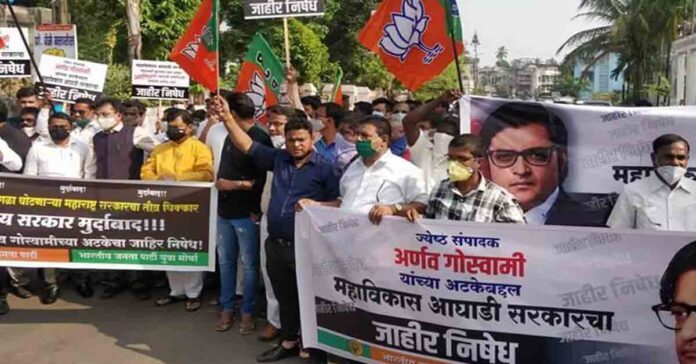 This is not the first time that "shades of the Emergency" have been spotted in India.
The country woke up startled out of sleep in the wee hours of Wednesday morning, to the news that famous TV personality

Arnab Goswami

was arrested by the Maharashtra Police from his residence in connection with a 2018 suicide abetment case.
The news spread as wildfire, as Republic TV telecasted and replayed visuals of their editor-in-chief being forced out of his apartment. Many important personalities including Union ministers condemned the arrest of Arnab Goswami and lashed the Maharashtra government for what they called it "an attack on press freedom".
Union Minister

Smriti Irani urged everyone to support Arnab and

directed a sharp question towards those who disagreed to do so: "Who speaks if you are next?" Home Minister Amit Shah

claimed

that Goswami's arrest reminded him of the Emergency", and promised that this attack on free press "WILL BE OPPOSED".
Uttar Pradesh Chief Minister Yogi Adityanath

tweeted

against this alleged onslaught on press freedom.
But this is not the first time that press freedom has been under attack in the country, or that "shades of the emergency" have been spotted. Then where were these personalities then? Many journalists were arrested, fired from their jobs, humiliated and even killed. But the BJP leaders did not utter a word. The charged journalists for sedition just because they tried to speak the truth.
BJP leaders need to be told or taught that the arrest of Arnab is not a national issue it is his personal issue, hence they need not cause hindrance in the path of law, rather help the system to have a free and fair trial, if they are fair enough.
ALSO READ: What Arnab does is not Journalism; it is Licking -ism