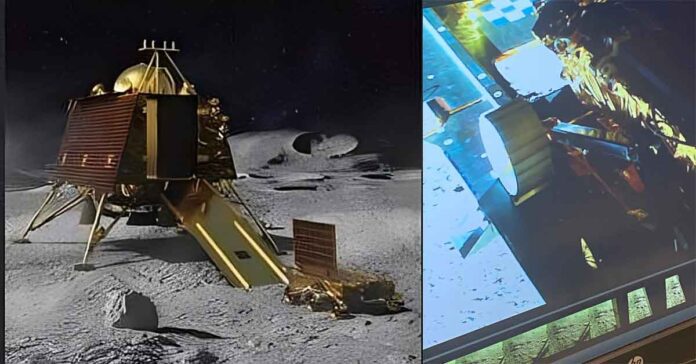 The Pragyan rover has rolled out from the Vikram lander and will now start moving around on the lunar surface. Marking a successful next stage hours after Chandrayaan-3 made its historic landing on the Moon, ISRO sources said Thursday.
The Chandrayaan-3 ramped down from the Lander and India took a walk on the moon. The first picture of Rover coming out of the lander on the ramp was shared by Pawan K Goenka, the chairman of the Indian National Space Promotion and Authorisation Centre on his Twitter.
According to ISRO Official, over the next 14 days, the six-wheeled Pragyan rover will move around and carry out experiments on the surface of the moon. Both the Vikram lander and Pragyan rover have a mission life of 1 lunar day, equal to 14 days on Earth.
The Pragyan rover is a six-wheeled rover that will conduct experiments and study the lunar surface for various elements. The mission is expected to last for two weeks. The lander imager Camera of Isro's Chandrayaan-3 captures a portion of its landing site on the surface of the moon.
More updates on chandrayaan-3 are awaited….
Chandrayaan-3 Mission:

Chandrayaan-3 ROVER:
Made in India 🇮🇳
Made for the MOON🌖!

The Ch-3 Rover ramped down from the Lander and
India took a walk on the moon !

More updates soon.#Chandrayaan_3#Ch3

— ISRO (@isro) August 24, 2023
First photo of Rover coming out of the lander on the ramp. pic.twitter.com/0ouhMk8MbR

— Pawan K Goenka (@GoenkaPk) August 23, 2023
ALSO READ: Chandrayaan-3 makes successful Soft Landing on Moon's surface