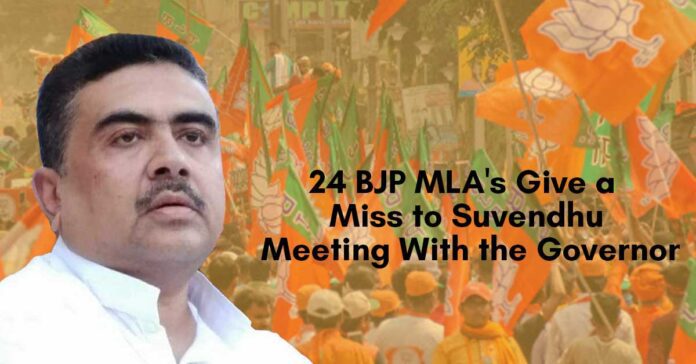 A section of BJP MLA's give a miss to Suvendhu Adhikari's Meeting with the Governor. Mr. Adhikari, is the Leader of Opposition in the Bengal Assembly. He met the Governer Jagdeep Dhankar on Monday evening with a delegation of party MLA's.
The BJP MLA's are on a spree to return to Mamata Banerjee's Trinamool Congress in Bengal. Hence BJP is making great efforts to counter report its members. May be that's why Suvendhu Adhikari had a meeting with Home Minister Amit Shah recently.
It is important to note that the meeting was meant to apprise the Governor of "several inappropriate incidents and other important matters happening in Bengal."
However, 24 MLA's out of 74 MLA's accompanied him. There are speculations about the possibility of the migration of BJP MLA's to TMC.
Furthermore, this matter gave credence to the view that not all MLA's were ready to accept Mr. Adhikari's Leadership.
ALSO READ: Pink Turns Saffron: Etela Rajender Joins BJP