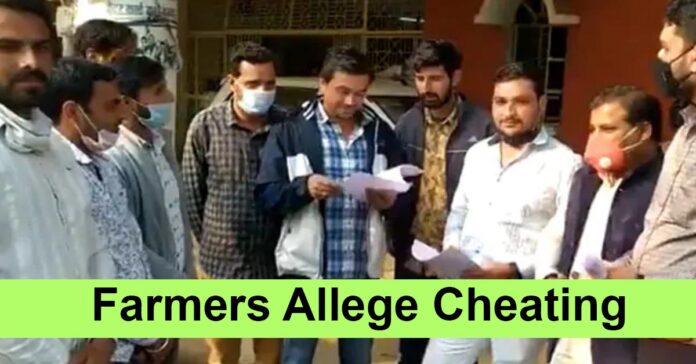 Around 150 farmers were reported to be cheated in the home districts of Chief Minister Shivraj Singh Chouhan (Sehore) and Agriculture Minister Kamal Patel (Harda), in Madhya Pradesh.
This incident is very embarrassing for the BJP in Madhya Pradesh as nearly 2,600 quintals of crop worth more than ₹ 5 crore was allegedly cheated from around 150 farmers from four districts.
Several of the farmers are from the home districts of Chief Minister Shivraj Chouhan (Sehore) and Agriculture Minister Kamal Patel (Harda).
Many series of complaints have come up after the state relaxed restrictions and suggested the farmers to sell in price controlled wholesale markets . A group of 22 farmers marched to the office of the Sub Divisional Magistrate of Dewas on Monday and complained that the traders bought the produce. Surprisingly, the cheques bounced, and when the farmers checked with the mandi , they found out that there was no record of those traders.
One of the farmers – Kanhaiyaa Patel from Harda said that they had given their produce as per the rates decided but they we haven't got the money till date. He added that around 150 farmers from Sehore, Harda and Hoshangabad were cheated to the tune of ₹ 5 crores.
Another farmer, Rahul Patel appealed to the Chief Minister and the Agriculture Minister to arrest the trader and attach his property and return the money to the farmers.
Eight such complaints have been filed in Harda, Agriculture Minister Kamal Patel's own district. 18 farmers were cheated of coriander leaves worth ₹ 20 lakh, in Bamori. 24 farmers complained that a businessman who is missing now has taken a produce worth ₹ 10 lakh in Gwalior.
Nearly 250 farmers have been allegedly cheated, across the state.
The farmers alleged that with the state's New Model Mandi Act, the companies who used to purchase produce at the mandi, have now cheated them as there is no guarantee of payment, as the new Act removes this guarantee.
ALSO READ: "Farmers Have A Right To Protest", but talks needed: SC