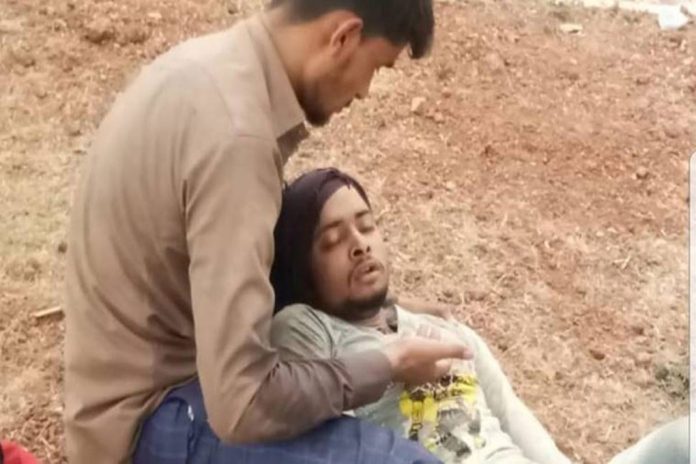 The migrants are returning to their native places. Few are walking; others are using other means of transport. We have been seeing so many heart rending scenes. The tragic part is when we hear that these people are falling prey to many accidents on the road.An example of humanity in the times of Corona, Muslim friend Yakub didn't leave his friend Amrut till the end.
One such incident happened in the district of Shivpura, where a young man breathed his last even before reaching his native place.
Shivpuri
During the outbreak of corona, there is a dearth of humanity everywhere, but when we see or hear incidents which prove that humanity is still there then we start believe in the bonding of humans, and a last ray of hope that this bad times shall pass and humanity shall always win.
In this district of Shivpuri which is combating with coronavirus, we can see such incident of humanity.
There were two young men who belonged to different religions but were best friends. Both of them worked as laborers in Surat. As destiny had to be, an incident which happened between them would bring tears to everyone who knows about the incident, but then you would be happy and proud too.
When the health deteriorated, the other friends forced to get down the truck
A 24 years man who was suspected to be affected by coronavirus was travelling in a truck to his native village from Surat, Gujarat. There were many others travelling in this truck. When the truck had reached Shivpuri- Jhansi in Madhya Pradesh, Amrut,  became very ill.
The others travelling in the truck suspected him to have corona. They panicked and dropped him there as his health deteriorated. No one thought as to what would happen to Amrut, who wasn't well, except his best friend Yakub Mohammad.
Amrut died
When the truck driver did not want to take Amrut further, he dropped him there itself, but Yakub did not leave his friend, instead got down the truck for his friend Amrut. Amrut was unconscious.
In spite of the fear of being infected by coronavirus, Yakub did not leave Amrut. When people saw him sitting with his friend in a very bad condition, they helped him. With the help of the local people, Yakub could take Amrut to the district hospital.
Immediately, the doctors put him on a ventilator, but Amrut breathed his last while being treated.
Muslim friend did not leave him till the last
Yakub informed that Amrut and Yakub worked in a textile company. The factory was shut down due to corona. They paid Rs. 4000 each to travel to their home town. They were taken to Nasik, Indore and then towards Kanpur.
The health of Amrut deteriorated suddenly. He had high fever and had nausea, but did not vomit. There were around 55-60 people in the truck, who protested that Amrut should not travel any further. Hence the truck driver told Amrut to get down there only. I didn't want to leave Amrut alone, hence got down to take care of Amrut.
Corona test awaited of both of them
Dr. P.K. Khare, civil surgeon, of the district said that the laborers, Amrut(24), son of Ram Charan, was travelling from Surat to UP . The doctor informed that the tests of both these laborers are awaited.
ALSO READ: COVID-19: Humanity will Overcome, Says PM Narendra Modi