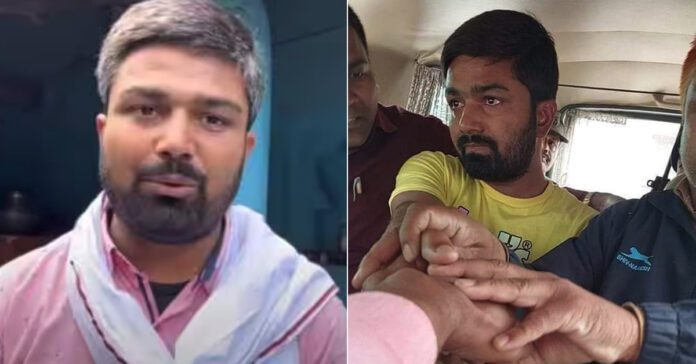 On Wednesday, Manish Kashyap, an Indian YouTuber and Journalist was arrested by EOU (Economic Offences Unit) of Bihar Police. He has been famous on social media for his style of reporting. He has a YouTube channel namely Sach Tak.
According to media reports, it was alleged that he was arrested for sharing fake videos of attack on Bihar migrants in Tamilnadu. We at Avaaz24 are presenting you some interesting details of Manish Kashyap and facts from his life.
Manish Kashyap
According to media reports, Manish Kashyap was born in Paschim Champaran district, Bihar on March 9th 1988. His actual name is Tripurari Kumar Tiwari. His father Udit Kumar Tiwari works for the Indian Army.
Education & Career
Manish Kashyap was good at academics from childhood. After completing his 12th standard in 2009, he came to Maharashtra for higher studies. In year 2016, he received a degree in Civil Engineering from Savitribai Phule Pune University.
Despite completing his degree, he chose Journalism as his profession. In the year 2018, he stated Sach Tak, a news channel on Youtube. Through his videos, he started informing people about the mistakes and failures of the government.
Eventually, he gained fame as as Son of Bihar, for his strong voice on corruption. His unique way of journalism earned fame all over India. In 2020 assembly elections, he contested as Independent candidate from Chanpatia.
Manish Kashyap arrested
Tripurari Kumar Tiwari alias Manish Kashyap is allegedly spreading fake videos on social media of attack on Bihar migrants in Tamilnadu. He is facing charges for uploading fake videos and creating propaganda on social media. The police charged at least 10 cases registered across two states.
The Bihar police have identified 26 suspicious social media accounts. Moreover they issued preservation notices to 42 other social media accounts. According to police reports, Manish's friends were also involved in this. The accused are identified as Youraj Singh, Aman Kumar and Rakesh Rajan Kumar.
According to IANS, the investigation has registered a FIR against all four accused in EOU police station in Patna.
ALSO READ: Zoho CEO Sridhar Vembu's wife accuses him of fraud