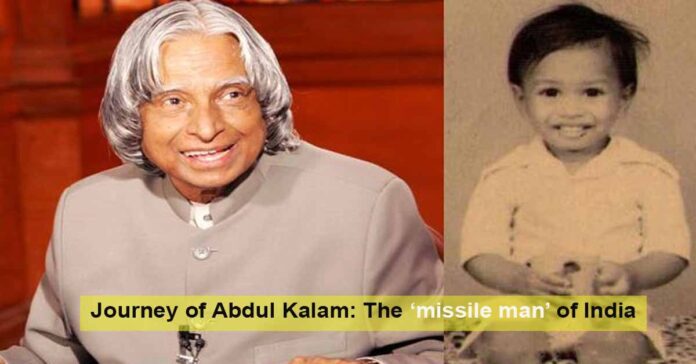 The missile man of India, the People's President, son of a Boatsman, bomb maker, rocket builder, visionary – many names to refer to the most humble person, Dr. APJ Abdul Kalam.
Avul Pakir Jainulabdeen Abdul Kalam can be described with many adjectives and phrases but his humility shows his greatness.
He had retired as the principal scientific adviser to the Prime Minister, a post equivalent to cabinet rank in November 1998. Though Kalam was entitled to a palatial bungalow in Lutyens' Delhi, yet he chose to occupy two rooms in a Defence Ministry guest house. These two rooms had been his home even when he headed the DRDO between 1992 and 1999.
But such was the irony of fate that, by July Kalam, a bachelor, had to move into the country's most coveted piece of real estate – Rashtrapati Bhavan, when the NDA government made him the President of India.
Kalam had to get into the habit of formal wear for state dinners, instead of his preference to wear bush shirts to suits and chappals to shoes, as they were the prerequisites of the power he was holding then.
When Abdul Kalam was called by the late Prime Minister Indira Gandhi to Delhi to personally felicitate him for putting the country on the world's space map, in 1980,  Kalam panicked as he neither had a suit nor shoes of his own. He was encouraged by the then head of the ISRO, Satish Dhawan, saying,  "You are already wearing the suit of success. So just be there."
Kalam's suit has been well-earned. His suit was that he was not only responsible for building India's first satellite launcher, the SLV3, but also he made the country a missile power by developing the Agni and Prithvi, in the 1980s. His devoted role came in a decade to weaponising nuclear capability, in 1998's Pokhran blast.
Though the Bharat Ratna awarded to him in 1997 was a token of the nation's appreciation, nominating him as the President of India is the real thing. No one else can be a better candidate than a poor boat owner's son. His sister had to forfeit her jewellery to send him to the Madras Institute of Technology for a diploma in engineering.
Many said that Kalam had been nominated entirely because of the religion he was born into, for which he would displease him. Kalam prayed twice a day but, he always felt that his religion was an intensely individual choice. He referred to the Bhagavad Gita as often as he did to the Koran. After he was nominated as the President of India, he had quoted from the Gita, when he met reporters in Chennai. His austere study has books on several religious philosophies.
Kalam displayed remarkable energy, even when he was 71. He would work late into the night and wake up early to go for a two-hour walk. He had simple habits -he was a vegetarian, teetotaller and never smoked.
His hobbies are calming: he played the Rudra veena and wrote poetry. It is this inherent nature of tolerance which made him stand tall even when people criticized him for not having a doctorate when he had taken an assignment at the Indian Institute of Science, Bangalore.
ALSO READ: Defence Ministry supports Atmanirbhar Bharat Abhiyan