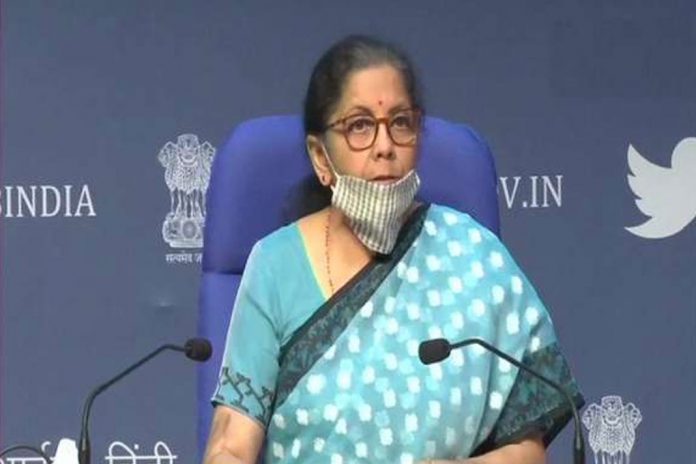 Union Finance Minister Nirmala Sitharaman addresses a press conference in New Delhi to share details of the Rs 20 lakh crore package announced by Prime Minister Narendra Modi.
The fresh economic package focuses extensively on supporting MSMEs that have been worst hit by the lockdown to contain the spread of coronavirus in the country.
Finance Minister Nirmala Sitharaman shared the details about the key stimulus package announced by PM Narendra Modi to revive the economy.
The prime minister had said that the package of Rs 20 lakh crore would help every section including workers, farmers, middle class, industrial units and the MSME sector.
Firstly, the Finance Minister listed the achievements of Modi government in the last six years.
For poor – Direct Benefit (DBT) based reforms, PM Awas Yojna, Ujawala Yojna, Swachh Bharat Abhiyan, Ayushman Bharat, Pradhan Mantri Gareeb Kalyan Yojna, etc
For agriculture – Kisan Bima Yojna
For businesses – IBC reforms, GST reforms, etc
She said that the government has done a wide range of reforms which has eased lives during the lockdown, the finance minister said.
She said that her team wishes to put forth the Prime Minister's vision.
She spoke about 15 different measures, six of them about MSMEs, two relate to employee provident fund, two to HFCs and MFIs, one to discoms, one contractors, one real estate, among others.
The MSME would be provided with a collateral free loan and the facility would be till 3 lakh crore.
For MSMEs with outstanding loan of Rs 25 crore or with Rs 100 crore turnover will get these loans.
These loans will have 100 per cent credit guarantee and a moratorium of 12 months, which would enable 45 lakh MSME units to resume business activity and also safeguard jobs.
To provide stressed MSMEs with equity support, the government will facilitate the provision of Rs 20,000 crore as subordinate debt.
This will help 20 lakh stressed MSME units.
Support will be given to the viable MSMEs which need hand-holding due to Covid-19,through fund of funds worth Rs 50,000 cr.
The money will be infused as equity.
The fund of funds will be operated through a Mother Fund and few daughter funds which will help to expand MSME size as well as capacity.
Finance Ministry redefines MSME to help unit which lose benefits after expanding.
Change in definition of MSME so they need not worry about outgrowing in size and capacity.
Investment limit to define MSMEs to go upwards.
Manufacturing and service-based MSMEs shall all be defined similarly.
Even with 1 crore investment, MSMEs will be categorised as micro-unit. And these can have turnover can be up to 5 crore. They will still be micro-enterprise.
Extension of upto 6 months will be provided to contractors by all central agencies.
To increase take-home salary, the government cuts EPF contribution from the employer and employee from 12 per cent to 10 per cent.
The government will however continue to pay 12 per cent as its contribution towards EPF.
The change is applicable for three months and amounts to a liquidity support of Rs 6750 crores.
"Global tenders to be disallowed in the government procurement up to Rs 200 crores. This will make self-reliant India, will also then be able to serve 'Make in India'," she said.
This will enable MSMEs to do their business with a,lot more confidence and supply without a threat of cheaper global products.
For cash-starved discoms, the government announces a liquidity injection of Rs 90,000 crores.
This is a one-time provision for infusion of money against their receivables.
The government announces Rs 45,000 crore liquidity infusion through a Partial Credit Guarantee Scheme 2.0 for NBFCs.
The first 20 per cent loss will be borne by the guarantor which is Govt of India. "Investments permitted in both primary and secondary markets, to buy even investment-quality debt papers. The move will ease flow of credit," the FM said.
The government launches a Rs 30,000 crore Special Liquidity Scheme for NBFCs/HFCs/MFIs.
Liquidity relief for all EPF establishments and employees announced.
To ease financial stress as businesses get back to work, the government decides to continue EPF support for business and workers for 3 more months providing a liquidity relief of Rs 2,500 crore, Finance Minister said.
E-market linkages will be provided to all MSMEs to ensure that they can market themselves in the absence of trade fairs and exhibitions in post-Covid world.
The government will infuse Rs 50,000 crores liquidity by reducing rates of TDS, for non-salaried specified payments made to residents, and rates of Tax Collection at Source for specified receipts, by 25 per cent of the existing rates.
Government agencies to give up to six months extensions to construction and goods and services contractors.
"In a major relief to contractors, all central agencies to provide an extension of up to 6 months, without cost to contractor, to obligations like completion of work covering construction and goods and services contracts," Finance Minister said.
Among other measures, the due date of all income-tax return for FY 2019-20 will be extended from 31st July 2020 & 31st October 2020 to 30th November 2020 and tax audit from 30th September 2020 to 31st October 2020.
The government to infuse Rs 50,000 crores liquidity by reducing rates of TDS, for non-salaried specified payments made to residents, and rates of Tax Collection at Source for specified receipts, by 25 per cent of the existing rates.
ALSO READ: PM Modi has announced a special economic package of Rs. 20L crores